10 Reasons Why You Should Collaborate on Geni's World Family Tree
Thanks to the collaboration of millions of genealogists and family historians, Geni's World Family Tree has over 100 million profiles connected. That's over 100 million people connected to a single family tree!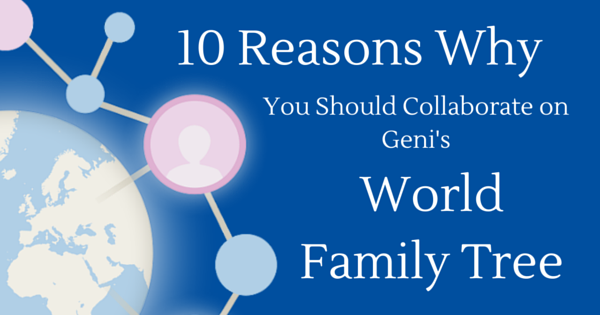 Here are 10 reasons why you should be collaborating in the World Family Tree now:
1. Work with others in projects
Why research alone, when there's an entire community who is just as passionate about genealogy as you? Who better to work with than individuals who are also researching the same areas as you. Interested in a specific topic? You can collaborate with other like-minded researchers from all around the world in Geni's genealogy projects, which cover a wide range of topics.
2. No need to do the same research again
Don't spend countless hours repeating research that has already been done. A better use of your time would be to verify existing information and pursue new leads to expand the family tree even further.
3. No more duplicates! Find all information in one place
Perhaps one of the most annoying problems of online family trees are the duplicates. On Geni, duplicate profiles are constantly eliminated as all profiles are merged into a single profile. Our team of volunteer curators can designate Master Profiles, the definitive profile of a person, so that all subsequent duplicates are merged in, giving you the assurance that all of the best information for a person can be found in one place.
4. Correct mistakes
A common problem with multiple online trees is the repetition of errors copied from one tree to another. Since all the information is found in one place in the World Family Tree, when an error is fixed, it only needs to be fixed once for everybody. As more people work together, more mistakes can be found and corrected, meaning the quality of the World Family Tree is always improving. Curators can also lock fields on Master Profiles to prevent others from reintroducing that same error again.
5. Discover unknown branches
Tree Matches can send you to new a world of undiscovered branches of your family tree. Your small tree of 100 can balloon to over 100 million with just one match!
6. Meet new cousins
These new branches may also lead you to get into contact with a distant cousin you never knew about!
Read how genealogy blogger Kitty Cooper discovered her second cousin once removed on Geni.
7. Benefit from the research of others
In a single family tree, you will be able to benefit from any new information others find just as they will be able to benefit from any new research you may contribute.
8. Get help
With millions of researchers working towards the common goal of the World Family Tree, there's never a shortage of help. Just hop into the public discussions to reach out to the Geni community. And Geni's team of dedicated volunteer curators are always eager to help out too!
9. See how you're related to celebrities and historical figures
A fun feature of Geni's World Family Tree is the ability to see how you're related to the many celebrities and historical figures that are also connected to the tree. Simply visit their profile and click the "How are you related?" button to discover your relationship to that person. Then for your next family reunion, you can share how George Clooney is your ninth cousin once removed!
10. Preserve our shared ancestry
You can help preserve the memories of our ancestors for future generations. Together, we can make Geni's World Family Tree the go-to reference for everyone around the world who wishes to learn more about their family history.
Help us connect all of humanity in a single family tree and join us today!
Share: