10 Unusual Gravestones
If you have taken a stroll through a cemetery, you may notice a few graves that are not quite like the others. Many families choose unique markers that are reflective of who the person was when they were alive, while others offer grand tributes to the deceased.
Have you come across one? Check out these unique gravestones:
1. Goff Memorial at Rock Creek Cemetery in Washington D.C.
Image: Sarah Stierch, Wikimedia Commons (CC BY 2.0)
2. Holding hands – this couple was reunited once again after their death. Read more about their story here.
Image: Frank Janssen, Wikimedia Commons (CC BY-SA 3.0)
3. The Landon Egyptian Sphinx tomb in Kensico Cemetery, New York.
Image: Anthony22, Wikimedia Commons, (CC BY-SA 3.0)
4. Paul G. Lind must have loved Scrabble. This one is located at Lone Fir Cemetery in Portland, Oregon.
Image: Oddee
5. 10-year-old Florence Irene Ford died on October 30, 1871 of yellow fever. Florence was terribly afraid of thunderstorms while she was alive and upon her death, her mother had a set of stairs constructed by Florence's grave with a glass window. During storms, her mother would come to her grave to offer comfort. After her mother's death, the glass window was cemented over. Today, you can still go down the steps to where the mother sat. The grave is located in Natchez City Cemetery in Natchez, Mississippi.
Image: Natalie Maynor, Flickr (CC BY 2.0)
6. Ray Tse, Jr. was just 15 when he passed. His family posthumously fulfilled his dream of owning a luxurious Mercedes Benz by commissioning a 36-ton granite memorial of a full-sized 1982 Mercedes Benz 2400 Diesel limousine for his grave.
Image: Workbookforadp, Tumblr
7. In commemoration of his life's work, an enormous lightbulb was commissioned as a headstone for electrician Sal Giardino. The grave can be found in Laurel Grove Memorial Park in Totowa, New Jersey.
Image: EzineMark
8. Here's a marble gravestone of a computer.
Image: EzineMark
9. Davis Memorial at Mount Hope Cemetery in Haiwatha, Kansas has become a bit of a tourist attraction. After the death of his wife, John Davis erected a massive memorial, carved out of Italian marble, in her memory.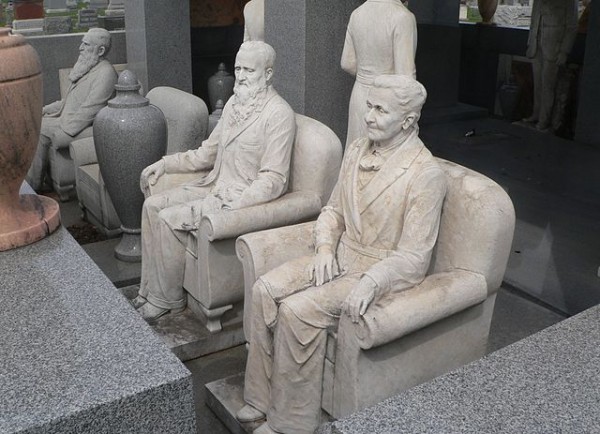 Image: Wikimedia Commons
10. The grave of W. Jack Crowell is marked with a giant clothespin gravestone. Can you guess what he did for a living? Crowell owned the National Clothespin Company, one of the last wooden clothespin manufacturers in the U.S.
Image: Oddee
Share: