5 Things to Know About Cinco de Mayo
Happy Cinco de Mayo! The Mexican holiday is primarily observed in the United States and parts of Mexico as a celebration of Mexican heritage and culture. Many don't realize that the holiday also commemorates the Mexican Army's unlikely victory over French forces at the Battle of Puebla on May 5, 1862.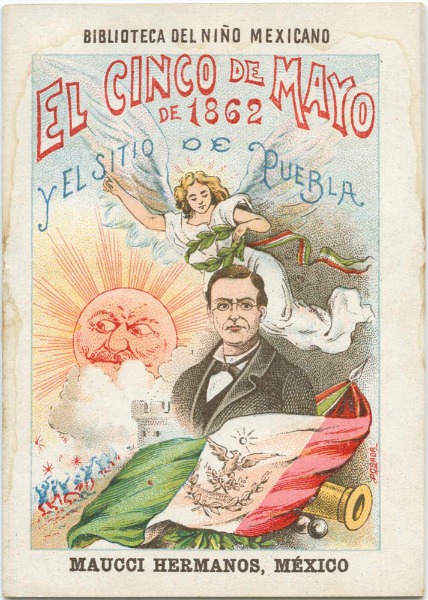 Image: DeGolyer Library, Southern Methodist University / Flickr
In honor of the holiday, here are 5 things to know about the history of Cinco de Mayo:
1. France wanted to build a Latin empire.
After the Mexican-American War, Mexico found itself in a civil war, called the Reform War, that left the country bankrupt. Facing a financial crisis, President Benito Juárez suspended all foreign debt repayments. France, Spain, and Britain sent their naval forces to force Mexico to demand payment. Although Spain and Britain eventually withdrew, France had other ideas. Napoleon III, who was France's first President until he seized control as Emperor, saw this as the perfect opportunity to establish a Latin empire in Mexico.
2. The Battle of Puebla lasted from daybreak to the early evening.
On May 5, 1862, 6,000 French soldiers marched onto the small town of Puebla de Los Angeles. Quickly, Juarez rounded up 2,000 men and sent them to Puebla to defend the town. The rag-tag group of men were led by Commander General Ignacio Zaragoza. To the surprise of everyone, the small Mexican Army successfully defeated the French.
3. Despite the Mexican Army's unprecedented victory, they still lost the war.
Although the Mexican Army was victorious at Battle of Puebla, they were ultimately defeated by the larger French forces. Maximilian I was named Emperor of what would be the short lived Second Mexican Empire. Despite their loss, the Battle of Puebla would remain a great source of inspiration for the Mexican resistance.
4. The Second Mexican Empire lasted for 5 years.
France's second empire in Mexico lasted for a short 5 years. With the assistance of the United States, the Mexican resistance was eventually able to expel the French from the country. The country re-established their government with Juarez as President.
5. Cinco de Mayo is NOT Mexico's Independence Day.
Many people mistake Cinco de Mayo for Mexico's Independence Day. The country's Independence Day is celebrated on September 16. Considered one of Mexico's most important holidays, the day commemorates the Cry of Dolores, which initiated the war of Mexican independence from Spain. In the early morning of September 16, 1810, Miguel Hidalgo y Costilla, a Roman Catholic priest, rang the bell of his church, signaling the call to arms that would trigger the Mexican War of Independence.
Be sure to also check out the French Intervention in Mexico project on Geni to learn more!
Share: