5 Things You May Not Know About Beatrix Potter
Today marks the birthday of Beatrix Potter. Many people grow up reading her beloved stories featuring the mischievous Peter Rabbit.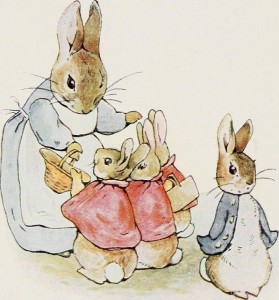 Image: Internet Archive, Flickr
She was born Helen Beatrix Potter on July 28, 1866 in Kensington, London, England. She first published The Tale of Peter Rabbit in 1902 and found instant success. Since the book's initial publication, it has become one of the best selling books of all time. Today readers around the world continue to enjoy her story and iconic illustrations.
In celebration of her birthday, here are some interesting facts you may not know about the famous author.
1. She came from a notable family.
Beatrix's paternal grandfather, Edmund Potter, owned what was then the largest calico printing works company in England. He introduced precision machine printing, where before all calico printing was done by hand. He later served as a member of Parliament. Her father, Rupert William Potter, trained as a barrister and specialized in equity law and conveyancing. Her mother, Helen Leech was the daughter of a wealthy cotton merchant and shipbuilder. Her first cousin once removed was Thomas Gair Ashton, 1st Baron Ashton of Hyde, a British industrialist and philanthropist.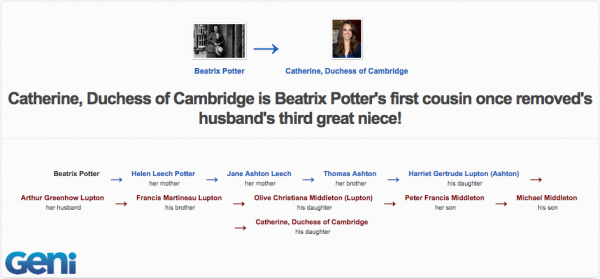 She also has a close connection to the Duchess of Cambridge. Beatrix had personally given her own illustrated drawings to the daughters of Arthur and Harriet Lupton, to whom they are both directly related. Harriet was the sister of Thomas Gair Ashton and Arthur Lupton is Kate's third great uncle.
2. She kept a coded journal.
At the age of 14, Beatrix began keeping a diary and wrote her entries in a simple code she devised. In her journal, she wrote her observations and stories from her life and included simple illustrations. Her journal would play an important role in the development of her creativity.
3. She was a botanist.
Beatrix showed an aptitude for observation and a talent for drawing early in life. Her passion for nature led her to study mycology, the study of fungi. She created many detailed drawings and paintings of her specimens, many of which exhibited intricate colors and details.
4. She was secretly engaged.
In 1905, Beatrix and Norman Warne became secretly engaged. He was the son of her publisher and worked closely with Beatrix during the publication of The Tales of Peter Rabbit. Beatrix's parents disapproved of their relationship because they felt he was beneath her status. Sadly, Warne died of leukemia only a month after their engagement.
5. She was a sheep farmer and conservationist.
She purchased the Hill Top Farm in Lake District and began breeding and raising Herdwick sheep. She soon became one of the major sheep farmers in the area. She continued to purchase many pieces of land in the Lake District to help preserve the English country landscape. At her death, she left nearly all of her property to the National Trust. Today, the land is now included in the Lake District National Park.
Explore Beatrix Potter's family tree on Geni and discover how you're related to the author and illustrator!

Share: