Easier Project Creation and Related Projects
Yesterday we released two enhancements to Projects:  an easier way to create Projects, as well as the ability to mark Projects as related.  The response to the release of Projects has been very encouraging, and we will continue to focus our efforts on making Projects as easy to use as possible.
Start a New Project
When you click on "Start a New Project", you will now be shown a lightbox that allows you to quickly create the Project, including tagging Profiles and adding Collaborators, all in one step.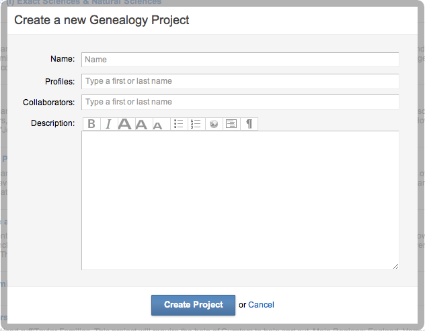 Simply add a Name for the Project, add the Description, and then add any Profiles or Collaborators that you wish.  Click the "Create Project" button to save the Project.  This feature allows users to create a more "complete" Project, eliminating several steps that were previously necessary to add Profiles and Collaborators.
Related Projects
Each Project now has a module on the right side for Related Projects.  To administer Related Projects, click on the "edit" link on the right-hand side of the module.  You'll then see an interface where you can easily select any of your Projects to mark them as "related" to the Project you are viewing.  You can also easily remove a Project as "related" by clicking on the X to the right of the Project's name.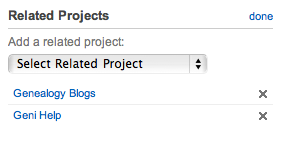 Related Projects make it easier for all users to discover new Projects.  It also provides "shortcuts" to jump between similar Projects when you're working on Merge Issues or looking for additional information.
Share: