Enhanced Posted Links
Posting a link is an easy way to add a link to any web page, such as a census record or grave image, to a relative's profile. Today we're making posted links better by making them part of our new documents feature.
When you post a link, we'll take a snapshot of the page you are posting and display it just like other documents on Geni. This means you can view the page without opening a new browser window or leaving Geni. And even if the page is no longer available, you can still view it on Geni – you can even rotate, zoom, and identify people right on the page!
Add a new posted link just like any other document – use the "Add Documents" link from any document page. Select the "Post a New Link" tab and enter the URL of the page you'd like to add. You can even enter the URL of a pdf or image file that is stored online.

Because posted links are now documents, you can also add all of the standard document metadata: Title, Date, Event, Location, People, and Description.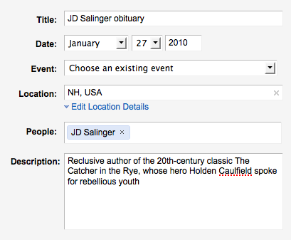 You can find your existing posted links in your list of documents. When you view them, we'll take a snapshot of the page, so you'll able to view them within Geni as well.
Share: