Family Stories: Weddings
Some of the best stories come from our own families. Often these lasting memories are passed down through generations either through storytelling or in personal journals or diaries. Today take a look back at the wedding stories in your family tree. You may even want to look for their wedding announcements in old newspapers, which sometimes include a story or description of the happy couple's special day.
Below are a few interesting wedding stories we found in old newspapers:
Justice Administers Vows on Typewriter at Wedding of Mutes
The San Francisco Call, December 9, 1907
Carl Anderson and Viola Labke were both deaf and mute and had courted using a typewriter. Labke was an expert typist in her brother's law office and taught Anderson, a fruit grower, how to use the machine. When they wed, the justice of the peace used a typewriter to perform the ceremony. Throughout the ceremony, the bride and groom were getting up and down typing in their responses to the judge. At the end of the ceremony, Anderson remarked with a smile, "It was a very quiet wedding."
True Love Finds a Way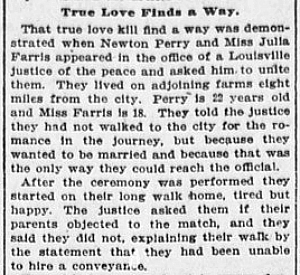 Omaha Daily Bee, September 6, 1903
Newton Perry and Julia Farris were determined to get married despite living 8 miles from the city. The couple, who lived on adjoining farms, walked the entire way to be married by the Louisville justice of the peace. When asked if their parents had objected to the match, they explained that they didn't, just that they couldn't hire a ride into the city. After their marriage, the couple happily began their long walk home.
Love Finds the Way for Young Elopers
Evening Public Ledger, July 31, 1917
A young couple ran away to elope after the bride's parents objected to their union. But before they could go through with the ceremony, the couple was arrested and brought before the judge. When her parents arrived for the hearing, the judge managed to convince them to allow the couple to wed. The parents relented and the judge performed the ceremony before discharging the happy newlyweds.
What are the wedding stories from your own family history? Share them with us in the comments below!
Share: