Family Tree Tuesday – Albert Einstein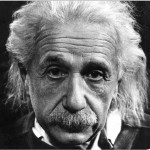 Albert Einstein is often regarded as the father of modern physics and received the 1921 Nobel Prize in Physics.
He is also remembered for having alerted President Franklin D. Roosevelt that Germany might be developing an atomic weapon, and recommended that the U.S. begin uranium procurement and nuclear research. As a result, Roosevelt advocated such research, leading to the creation of the top secret Manhattan Project, and the U.S. becoming the first and only country to possess nuclear weapons during the war. Days before his death, however, Einstein signed the Russell–Einstein Manifesto, that highlighted the dangers posed by the military usage of nuclear energy.
Check out the two Projects on Geni where he is included: the Nobel Prize Winners project and the Prominent Scientists i Exact Sciences Natural Sciences projects.
Are you related to the 1,260 blood relatives of his on Geni? Check out his family tree and see how!
Share: