Family Tree Tuesday – John Barrymore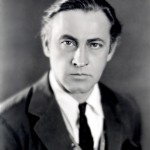 During his career, legendary actor John Barrymore was hailed as one of the greatest performers on the screen and stage. He is remembered for his highly lauded interpretations of Shakespeare's Richard III and Hamlet. For his contributions to the motion picture industry, Barrymore was posthumously given a star on the Hollywood Walk of Fame.
Barrymore was born on February 15, 1882 into a theatrical family. His parents were Broadway stage actors Maurice Barrymore and Georgiana Drew. Georgiana's parents and siblings were all successful theater actors. Her eldest brother John Drew, Jr. was considered to be the leading matinée idol of his time.
John Barrymore was the only one of his siblings not to win an Academy Award. His brother, Lionel Barrymore, was an acclaimed stage, film and radio actor. In 1931, he won an Academy Award for Best actor for his performance in A Free Soul. Sister Ethel was also a highly regarded stage and film actress. She received an Academy Award for Best Supporting Actress in the film None But the Lonely Heart. Ethel was once married to Russell Griswold Colt, who was the grandnephew of arms maker Samuel Colt.
Barrymore's son John Drew Barrymore, enjoyed some success as an actor, receiving a star on the Hollywood Walk of Fame for his contributions to television.
John Jr.'s daughter, Drew Barrymore, has carried on her family's legacy in the entertainment industry and is now a highly successful actor and producer. In 2010, Drew won the Golden Globe Award for Best Actress in a Miniseries or Television for her portrayal of Little Edie in Grey Gardens.
Check out John Barrymore's tree and see how you're related!
Share: