Feature Preview – Posted Links
In a few weeks we will release a number of new features on Geni that we are very excited about. Recently we previewed our upcoming Family Timeline feature, and also let you know about some upcoming privacy enhancements. Today I'd like to preview another upcoming feature, Posted Links.
With posted links you can share any web page with your Family and Friends on Geni. Not only is this a great way to share your favorite websites with your family, this is also a way to add online sources and records to your ancestor's profiles. Let me walk you through what this feature will look like when it is released.
Posting a link will be as simple as typing or pasting the URL into the Post Link field on your Home page:
Next, you will be able to select an image from the linked web page, edit the Title and Description, and people tag the link: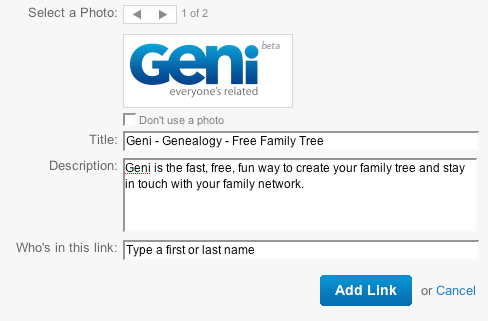 This link will appear in the new Posted Links module on your profile and on the profile of anyone you tagged in the link. For example, let's say Lewis Carroll is in your Tree and you've added a link to his grave from findagrave.com. Here is what the Posted Links module on his profile would look like:
You can also use posted links to add a YouTube video of your kids to their profiles, share an interesting book you found on Amazon with your family, and much, much more. As you can see, this is a fun, easy, and useful feature. We hope you will enjoy using it once it is released!
Share: