Geni is available in the Chrome Web Store
Today Google opened the Chrome Web Store in anticipation of next year's debut of Chrome OS notebooks.  We have added Geni as the first family tree app in the Web Store.
For Geni users that browse the web with Chrome, it's simple to "install" Geni as an app in your browser.  Simply visit our app's installation page, click install, and Geni will be added to your Chrome browser.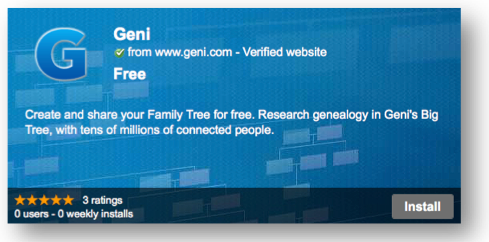 Once the app is installed, it will appear with other Chrome apps on new tabs and anywhere else your apps are displayed:

If you're not a Chrome user and you'd like to try it, you can download it here.  The latest version of Chrome has many improvements that make surfing the web faster and easier than ever before.
Share: