Geni is Heading to RootsTech 2018
Next week the Geni team will be heading to Salt Lake City, Utah for RootsTech 2018, the world's largest genealogy conference. Between February 28 – March 3, thousands of genealogists from around the world will gather at the Salt Palace Convention Center to learn more about the latest in the world of genealogy.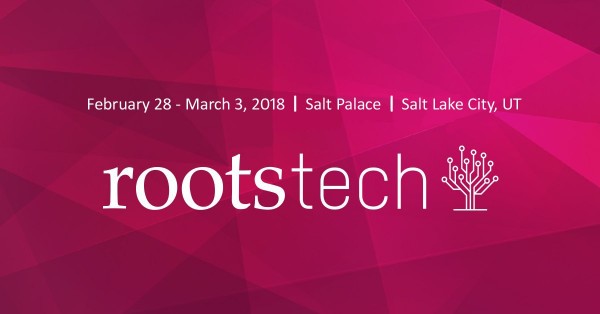 This year has an exciting group of keynote speakers, including Olympic gold medalist Scott Hamilton and renowned genealogist Henry Louis Gates, Jr.
With over 200 breakout sessions on a variety of topics, there's something for everyone at every skill level. Geni curator Randy Schoenberg will be giving a session on "Collaborative Town Projects." Join Randy to learn how genealogists can use Geni's genealogy projects to work together on genealogies and community histories related to a specific location. Here are the class details:
Friday, March 2 at 11:00am
Collaborative Town Projects with E. Randol Schoenberg
Geni's genealogy projects open up new avenues for collaborative genealogical research and tree-building. Combining the benefits of documented research and the Geni family tree platform, town projects provide a useful way for genealogists to work together on genealogies and community histories related to a specific location. The lecture will discuss specific examples of large and small town projects. Attendees will learn how to set up and organize their own town projects and invite collaborators. Specific attention will be given to the emerging view of generational family structure and the interconnectedness of communities using examples.

You can also come meet the Geni team in the conference's enormous expo hall. Geni will be at booth #309 (309, 311, 408, 410) and we'll have some brand new giveaways. Stop by to say hi, ask questions, and learn more about what's coming up on Geni. We will also be offering an exclusive conference discount on Geni Pro!
With nearly 120 million people connected to Geni's World Family Tree, you might even discover and meet some new cousins, too! Be sure to try out Geni Pathfinder, our new handy tool on your mobile device to easily discover how you're related to the people you meet at RootsTech! Simply go to this url on your mobile device:  https://www.geni.com/pathfinder . A QR code and Finder ID will be automatically created for you. Have the other person scan your QR code with their mobile device or you can enter the other person's Finder ID to quickly discover how you're related in Geni's World Family Tree.
Will you be at RoosTech? Stop by the Geni booth and say hello!
Share: