Geni Tips: Map Your Relatives
Have you checked out your family map lately? If the profiles in your family tree have their birth or current locations entered, you can easily see them displayed on a world map.
The map page is also a great way to see if you have any relatives in the family tree that are missing these locations on their profiles.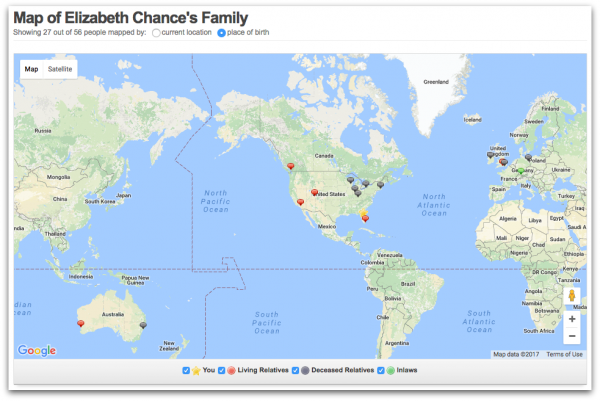 To view the map, click on Family at the top of the page and select Map.
Here you can choose to view either the birth locations or current locations of your relatives on the map.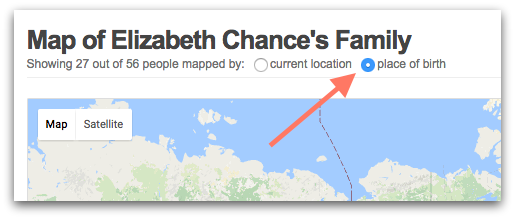 You are represented with a star icon on the map, while living relatives, deceased relatives and in-laws are shown with colored pins. You can toggle on or off which relatives to display by clicking on the check boxes at the bottom of the map. You can zoom in and out of the map by clicking on the plus or minus sign at the bottom right corner. Click on the map to drag it around.
When you hover your mouse over a pin, the name of the person at that location will display.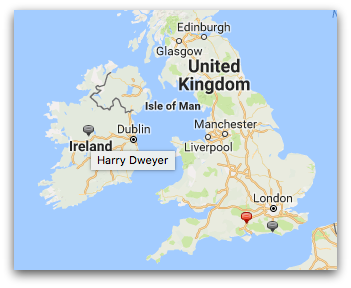 Below the map, you'll find a list of relatives who are still missing locations from their profiles. Here you can enter location information quickly to place them on the map. Click 'add' next to the person's name to begin.

As you enter the location, suggestions will automatically display to make entering the information easier. Note you can also edit the location information in the location details.
Make the profiles in your family tree more complete by adding locations to their profiles. Don't forget to upload your sources, too!
Share: