Geni Tips: See How Other People Are Related
One of the greatest things about being connected to Geni's World Family Tree is the ability to see how you are related to other people connected to the tree, including your favorite celebrities and historical figures. It's always fun to discover that George Clooney is an 8th cousin or that Elvis Presley is your 9th cousin once removed.
But what if you wanted to know how George Clooney is related to Elvis Presley? On Geni you can do that easily!
Let's start at George Clooney's profile.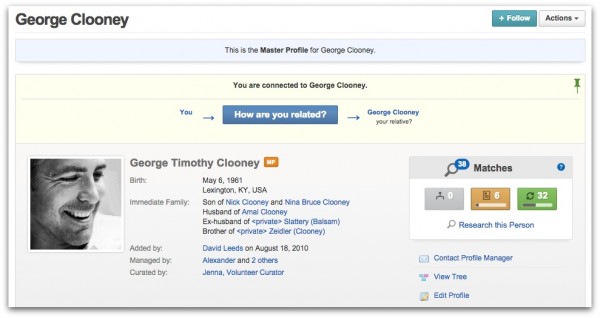 On the profile page, click on the green push-pin in the yellow box.

This will enable you to find relationships from this profile to other profiles connected to the World Family Tree.
Next, we will view Elvis Presley's profile. Here we see the message that George Clooney is connected to Elvis Presley. Click the large blue button labeled "How are they related?" to find out how.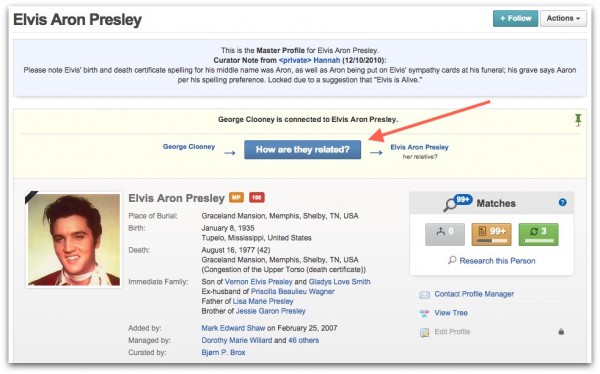 Geni will then find the relationship path between them and display how they are related. In the image below, we can see that Elvis Presley is George Clooney's 11th cousin thrice removed! From here, you can click the "Share this Path" link to show off the relationship path to your family and friends.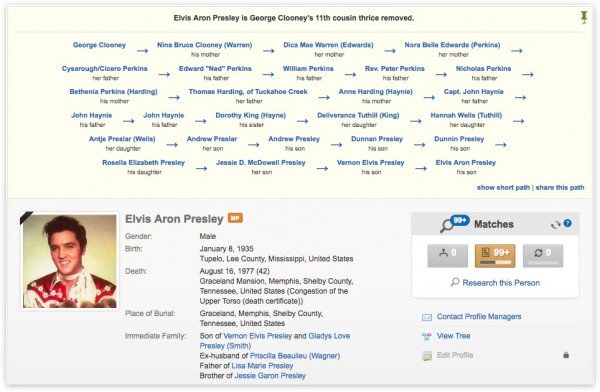 When you're done looking at paths for others, just click on the green push-pin again and it will revert back to your profile for path searches.
Now you know how to find the relationship paths between anyone in Geni's World Family Tree, which connects over 100 million people! Try it out on some of our most popular public profiles on Geni.
Share: