Introducing your new home page
Your Geni home page highlights your family's recent activity and gives you easy access to important Geni features. Today we're introducing a redesigned home page. The new, simpler design makes it easier for you to find what's important to you.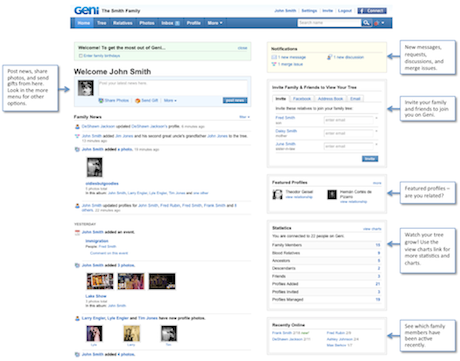 The first thing you'll notice is that there are now two columns instead of three. On the left you'll see your family news in a new, wider format for better readability. At the top of this column you can post news, upload photos, send gifts and more. On the right you have an overview of your Geni network:
Notifications: View new messages, requests, discussions and your merge issues list.
Tree Matches: Add new branches to your tree quickly and easily.
Invite Family & Friends: We all know Geni is better when your family and friends join you. Use the invite tab to invite your family, and use the other tabs to share Geni with your friends.
Featured Profiles: Are you related to these historical and celebrity profiles?
Statistics: Keep track of how your tree is growing!
Recently Online: See which of your family and friends has been on Geni recently.
The only module that didn't make it into the new home page is the new on geni module. We're working on some better ways to keep you updated on the latest Geni announcements, but for now make sure that you've subscribed to our blog or become a fan of Geni on Facebook.
Share: