It's in the Mail
Some people are lucky to have found old letters during their genealogy research. They may be thoughtful love letters sent home from soldiers at war or general greetings from one cousin to another across the country. But did you know that in the early days of the U.S. parcel service, some parents tried to send their babies by mail?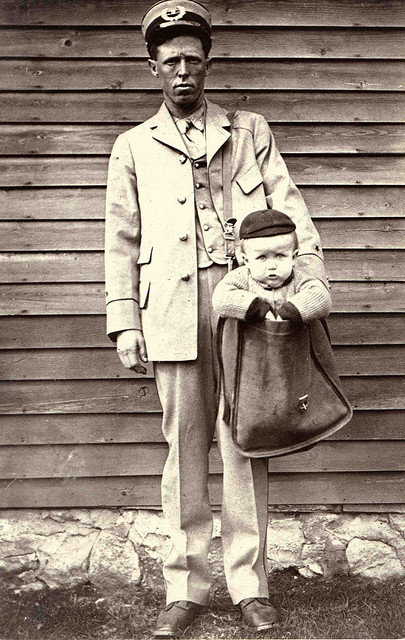 Smithsonian Institution / Flickr
After the parcel service was introduced in 1913, a few children were sent via parcel post with stamps attached to their clothing. The children rode with railway and city carriers to their destination.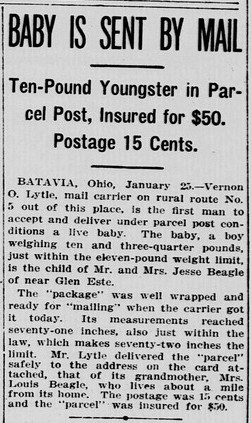 Evening Star, January 26, 1913 / MyHeritage SuperSearch
In January 1913, Mr. and Mrs. Jesse Beagle sent their baby boy via mail carrier to his grandmother, Louis Beagle. At 10 and three-quarter pounds, the baby was just within the eleven pound weight limit. The postage was just 15 cents and the "parcel" insured for $50.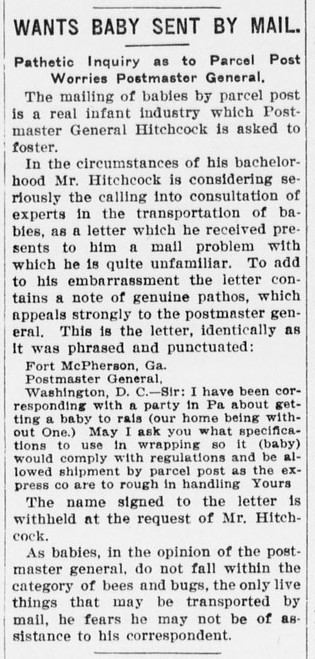 The Citizen, February 11, 1913 / MyHeritage SuperSearch
Others tried to ask the Postmaster General directly for the right specifications to send a baby via parcel post. After hearing of this practice, the Postmaster General quickly issued a regulation forbidding the sending of children in the mail. The only live things that could be transported by mail – bees and bugs.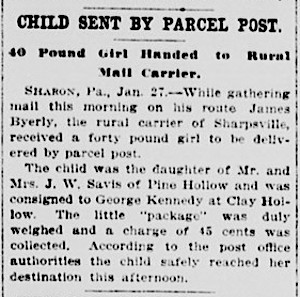 The Sun, January 28, 1914 / MyHeritage SuperSearch
Despite regulations, some parents still sent their children through the mail. In 1914, Mr. and Mrs. J.W. Savis handed their daughter to mail carrier James Byerly to be delivered by parcel post. With their daughter weighing at 40 pounds, the parents were charged 40 cents and she was safely delivered by the afternoon.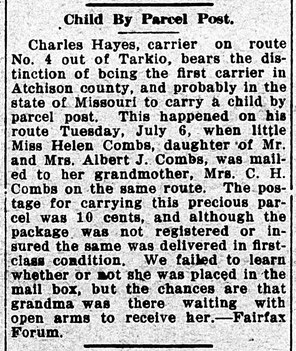 The Leon Reporter, July 29, 1915 / MyHeritage SuperSearch
In 1915, Mr. and Mrs. Albert J. Combs mailed their daughter Helen to her grandmother. It was a first for Atchison County, Missouri. Mail carrier Charles Hayes delivered her in first class condition!
Hopkinsville Kentuckian, September 4, 1915 / MyHeritage SuperSearch
That same year, 3-year-old Maude Smith was sent 30 miles to see her ill mother in Jackson, Kentucky. She was pasted with the necessary stamps and given to the care of postal authorities. She was placed on a wagon used for parcel posts and happily ate candy during her journey.
These days it's hard to imagine sending children in the mail. Good thing there are much better travel options for children today!
Share: