Join Geni at MyHeritage LIVE
We are excited to share that Geni will be participating in the first-ever MyHeritage user conference and you're invited! MyHeritage LIVE will take place on the weekend of November 2-4, 2018 in Oslo, Norway. The conference is open to anyone around the world who would like to learn more about Geni and MyHeritage.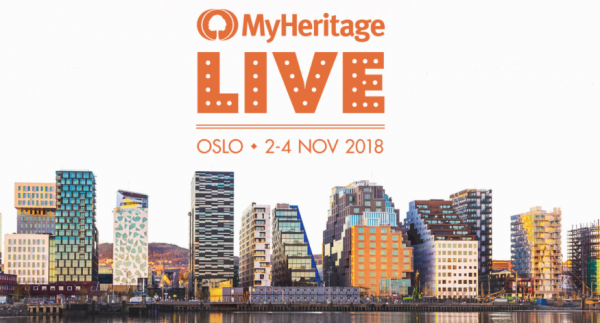 The conference will feature a keynote speech from MyHeritage Founder and CEO Gilad Japhet, a lecture and workshop from Geni's General Manager, Mike Stangel, international guest speakers, and talks from other senior MyHeritage staff members.
There will be three tracks: genealogy, DNA, and hands-on workshops. Learn from renowned experts in the fields of genealogy and DNA or get some hands-on experience in one of the many workshops available. Individuals of all experience levels are welcomed to attend and participate.
View the MyHeritage LIVE Conference Schedule
There will also be plenty of opportunities to ask questions and meet other Geni and MyHeritage users as well as Geni Curators. It's the perfect chance to see your fellow collaborators and Geni's helpful team of expert curators in person!
Tickets include entry to the Friday night reception, keynote speeches, and all conference sessions. They also include lunch and coffee breaks on Saturday and Sunday and entry to the exclusive MyHeritage LIVE party on Saturday night.
The conference will be held at the Radisson Blu Scandinavia hotel, which is conveniently located right in the center of Oslo. The hotel is within walking distance of the Royal Palace and National Gallery, so you don't have to go far to experience some of Norway's rich culture and attractions.
Space is limited, so be sure to reserve your spot before the Early Bird discount ends!
For a list of nearby hotels, details on how to get to the venue from Oslo airport, and other information, please check the FAQs on the MyHeritage LIVE website.
We hope to see you there!

Share: