Look Who's Related: The Backstreet Boys
Geni's parent company, MyHeritage, partnered with the Backstreet Boys to dive into their DNA to discover their ancestral origins. One of the most successful musical groups in history, the Backstreet Boys recently released their ninth studio album DNA and are in the midst of their DNA World Tour.
In promotion of their latest album, the entire group (AJ McLean, Howie Dorough, Nick Carter, Kevin Richardson, and Brian Littrell) took a MyHeritage DNA test to learn more about where their families come from.
Watch the Backstreet Boys' reaction to learning their MyHeritage DNA results:
In light of their recent discoveries, we thought it would be fun to take a look at the group's connections in Geni's World Family Tree!
Together for over 25 years, the pop group has become like family. In fact, Brian and Kevin are first cousins! What they might not realize is that they are also related to Nick. It turns out Nick is their 15th cousin twice removed.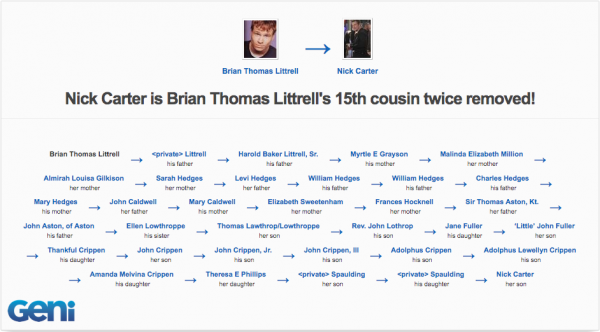 Kevin and Brian learned they had large percentages of English ancestry. With branches going back to the UK, we took a look at their connection to the British royal family. Queen Elizabeth II is Kevin's 15th cousin twice removed.
While Nick was amused to discover that he was 11.7% Scandinavian, a large portion of his ethnicity estimate showed that he was 62.6% North & West European. We took a look at his connection to one of the most influential figures in history, Charles Darwin. Darwin's theory of evolution by natural selection and proposal that all life descended from a common ancestor change the world's understanding of nature. Darwin is Nick's 9th cousin 6 times removed. Their common ancestor is Sir Richard Rich, Lord Chancellor of England, who is Nick's 14th great grandfather and Darwin's 8th great grandfather.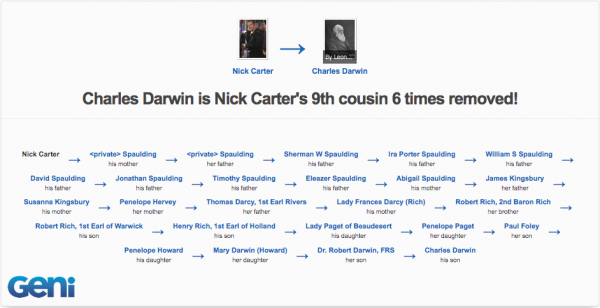 In 2011, the group embarked on a highly successful joint tour with New Kids on the Block, the popular boy band from the late 80's and early 90's. Although they may not have known it at the time, the joint venture was a little bit of a family affair. New Kids on the Block member Donnie Wahlberg is Nick's 17th cousin once removed.
How are you related to the Backstreet Boys?
Share: