Merging & Collaboration Enhancements
We've released a number of enhancements today to make finding and merging profiles easier:
Confirm match from similar profiles
A few weeks ago we added the ability to merge profiles directly from the hot matches list. This option was only available when you managed or were collaborating with the manager of both profiles. Now you can merge directly from the hot matches list as long as you have edit permission on one of the similar profiles. If you only have permission to edit one profile, a request will be sent to the other manager to complete the merge.
Personal messages when requesting to collaborate
You can now add a personal message to collaboration requests. Use this message to explain why you are sending the request, what profiles or branches of your tree you have in common, or just to introduce yourself!
Hot matches in list views
Hot matches now appear in all list views. Underneath the name of any profile with matches you will see the number of similar profiles and a link to view them.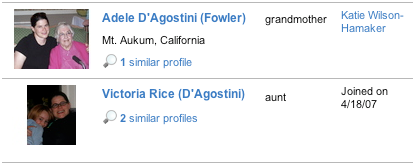 Merge Issues list
Your merge issues list now includes profiles managed by your collaborators. This will help you find additional merge issues that you can resolve. The most relevant merge issues will appear first in the list.
Share: