Merging Enhancements
Improved Pending Merge Interface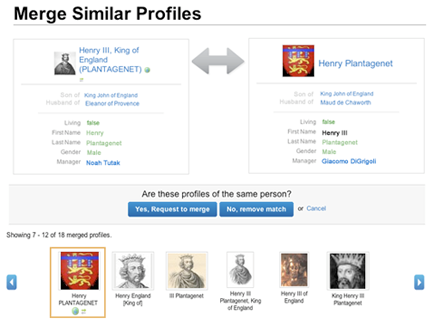 Pending profile merges now use the newer side by side format. Multiple pending merges will all appear at the bottom of the merge page so you can quickly resolve multiple merges. When you act on one pending merge the next one will automatically load for review. Use the carousel of pending merges at the bottom to jump ahead to a specific pair.

Better Conflict Permissions
The Tree Conflict icon now only appears when you have permission to resolve the conflict. On the conflict resolution page you can now initiate a merge on any profile that is not private.
More Enhancements
Profile names will now display the collaborator icon when you have collaboration rights to the profile. This is helpful when you are collaborating with an editor but not the profile manager.
Managers no longer lose editor rights when they transfer management of a profile.
The name of the manager that will retain management rights appears in bold on side by side merging pages.
Share: