More Enhancements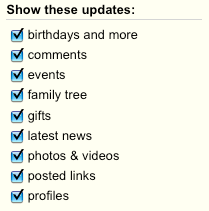 Family News Filter Select the types of stories you see in your Family News with the new story-type filter. Want to only see upcoming birthday and anniversaries? You can do it. Just photos, videos, and gifts? Yep, no problem!
Video Your family videos on Geni now have date, location, and description fields. Photos also get the new description field.
Tree Preferences Use the new "Open profiles in new window" to keep your tree in one window while viewing and editing profiles in another browser window.
GEDCOM Import You can now import GEDCOM files with up to 50,000 records. Profiles that are over 125 years old in your GEDCOM will automatically be marked as deceased when imported, and we now expose place names imported from your GEDCOM.
Share: