More New Features: Relatives, Locations and Photos
Simplified Location Editing
Location entry fields now take full advantage of the Google Maps API to find the exact location you are trying to enter. No more drop down menus or typos. Just start typing the name of a location and we'll suggest matches as you type:


Open the mini-map in place to verify the location:

You can still edit location details if necessary: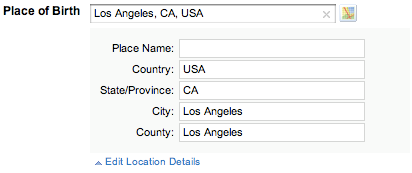 Simplified location editing is now standard on profiles, events, photos, and more!
Possible Relatives
Possible Relatives helps you find relatives to connect with on Geni. We'll use your existing relationships to find relatives that aren't in your Family Group. You can add any of them to your Family to start sharing family news, photos, and more. The more relatives you add, the more possible relatives we'll find for you!
Recent Photos
Looking for all the latest photos your Family and Friends have updated? Look no further than the new Recent Photos page. Browse the 200 newest photos and use the Me, Family, and Friends filters to view the photos you're most interested in.
Share: