More Revisions
Revisions are important way to track changes to profiles, trees, and more on Geni. In addition to tree revisions and profile revisions, we've added three new lists of revisions to provide greater visibility and accountability.
Home Page Revisions Tab
You can now view revisions for everything you follow, from profiles to projects, by clicking on the revisions tab on your home page: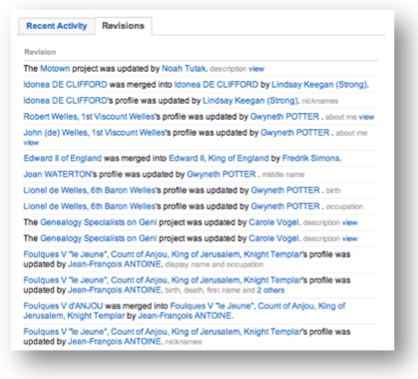 Make sure you follow the profiles, projects, and surnames you're interested in to see changes to them on your home page.
Tip: to see the timestamp of a revision in this view, just hover over the revision and it will pop up after a moment.
Project Revisions
The revisions tab on projects will display all revisions to the project and any profiles tagged in the project.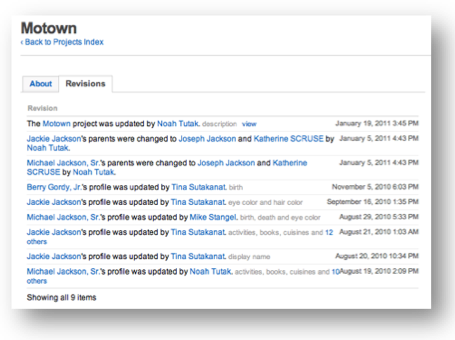 List View Revisions
From your list view, you can click on the revisions tab to display all revisions for your current list view.  This makes it easy to see revisions for profiles in your family group, profiles you manage, a profile's descendants, etc.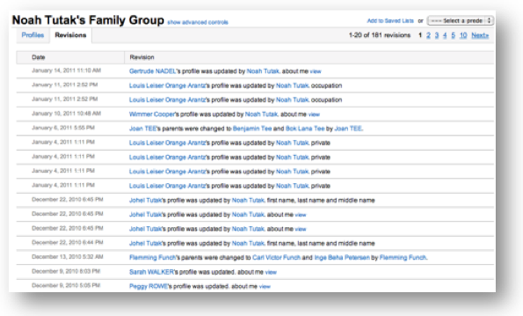 Tip: Click "show advanced controls" to fine tune your list of profiles, then click the revisions tab to see all revisions for your filtered view.
---
One more thing – revisions for text changes, such as updates to a profile's about me, now include a view link. Click the link to see the difference between that version and the previous version of that text field.
These additional ways to see revisions will make your research easier and more efficient as you explore your genealogy on Geni!
Share: