Mother and Daughter Reunited Thanks to MyHeritage DNA
In a very special live segment on Good Morning America, a mother and daughter were reunited for the first time in over 30 years thanks to MyHeritage DNA.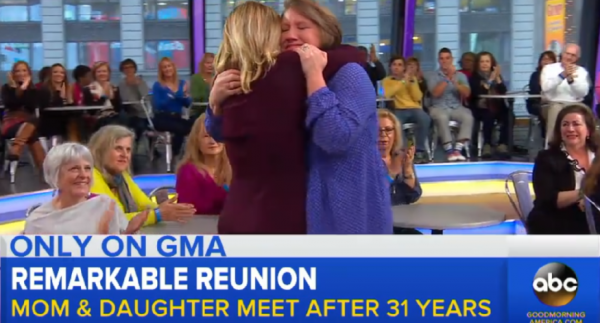 In 1986, Angie Oracoy placed her daughter, Meribeth, up for adoption. Only 19 years old at the time, the young mother never had the chance to hold her daughter before she was taken away. Angie hoped Meribeth would be adopted by a loving family who could give her daughter the life that she would not provide at the time.
Meribeth learned she was adopted at the age of 6 and although she loved her adoptive parents, she always wondered about where she came from. After years of searching for her biological mother, she finally decided to do a DNA test. A few weeks after submitting her results to MyHeritage, she received a notification for a match to her mother!
Watch the emotional reunion between Angie and Meribeth, who met for the very first time live on Good Morning America:
Read more about the story here.
Share: