New Feature – Find Your Family
Geni
is a collaborative tool that you and your family can use to build a
common family history. With the new Find Your Family feature, you can
quickly get your family on Geni to help you build your tree and create
a scrapbook of your lives, even if you aren't sure exactly how they are
related.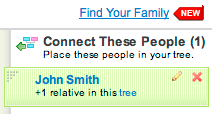 Find Your Family
The easiest way
to find family members on Geni is to search your address book. You can
import addresses from Outlook, Webmail (such as gmail or yahoo), or
from your Address Book. We'll select anyone that we think you are
related to and let you choose your other relatives. You can also
invite friends – unrelated people you want to share your photos, videos,
events with.
Your relatives will receive an invitation to
join Geni they can use to start building their tree. They will also appear in your
tree's sidebar; you can start building their tree for them, and merge
it into yours when the trees overlap.
Keep in mind:
Geni will not store your password or contact information
Geni will never email anyone without your direct consent
Requests Inbox
The new Requests Inbox helps you manage requests you've sent and
received on Geni. Now you can quickly view a history of Family, Tree,
and Friend requests that you have sent and received. Right from the
Requests Inbox, you can accept, decline, cancel, remind, and message
users. You will find the Requests Inbox in the Inbox subtab of your
Home tab.
Unknown Gender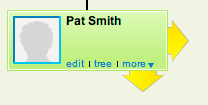 A new 'Unknown'
option for gender lets you add relatives of unknown gender. This is
useful for adding ancestors with uncertain genders, such as children
with unusual names. Profiles with unknown gender will appear as green in your tree.
Share: