New Feature: Hot Matches List
With over 60 million profiles on Geni, there is a good chance that someone else's tree also contains a profile that is on your tree. Finding these duplicates helps you find new information about your relatives and meet others researching the same relatives. Who knows, you may even meet a new cousin!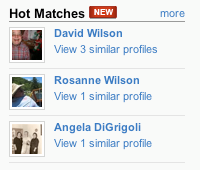 The new Hot Matches list is the easiest way to find these duplicates. If we have found hot matches for any profiles in your Family Group, they will appear in this list. Use the view similar profiles link to view the matches. If you have not upgraded to a Pro account you can take advantage of our new 14 day free trial.
During the trial period you will have all the advantages of a Pro account, including:
View all hot matches
Faster merging
Collaborate with other users
Advanced Search
From the list of hot matches, you can either contact the manager of the potential duplicate or review the match and merge the profiles. This is the fastest, easiest way to grow your tree and meet new relatives.
Share: