New Feature: Matches on New Profiles
One of the advantages of collaborating with others on building your family tree is avoiding duplicate work. With over 50 million profiles already entered on Geni, there is a good chance that someone has already built some branches of your tree for you. Now when you add a new profile to Geni we'll tell if you a similar profile already exists!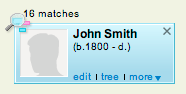 When you add a new profile to your tree an icon will appear indicating how many profiles share the name, gender, year of birth, and year of death (if applicable) of the profile you've added. Pro users can view a list of the matches to confirm that they are duplicates and request to collaborate with the manager of the duplicate profiles.
Share: