New Features – Post a Link, Send a Gift
Post a Link
Use Post a Link to easily share a link to any web page, such as an interesting news article, favorite website, or a YouTube video, with your Family. You can also post a link to a source such as a census record or grave image and add it to a relative's profile.
Posting a link is as simple as adding the URL to the Post a Link field on your Home page and selecting an image, title, description, and who is in the link. This link will appear in the new Posted Links module on your profile and any profile tagged in the link.
Post a Link from your Home page
Send a Gift…
Want to let someone know that you are thinking of them? Send them a free virtual gift on Geni! You can send a hug, a congratulatory handshake, flowers, or some other gift that's perfect for the occasion. You can also light a candle to memorialize loved ones. You can find the "Send a Gift…" button on your favorite person's profile under their profile photo.
We'll notify the recipient of your gift and display the gift on their profile. – we'll even include a link so they can give a gift back to you!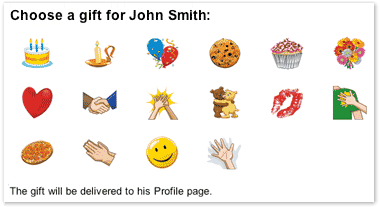 Share: