New Look: Navigation and Search
Faster Navigation
The next time you visit Geni you'll notice that our navigation bar has a fresh new look. The old tabs have been replaced with a clean navigation strip.
But beauty is more than skin deep, so we've also made some changes to
help you get where you want to go faster. Inbox is now a top level link
so you can see how many messages you have from every page and view them
in one click. We've also added a More menu to give you fast access to
the most commonly used features:
To make room for these new links, we've demoted videos, timeline, and statistics from top level tabs to the more menu. Don't worry – we haven't removed anything! We've just made it easier to find the most popular features.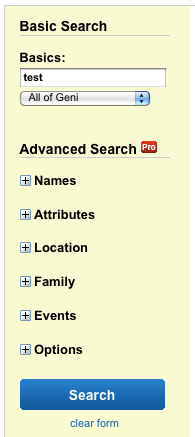 Simpler Search
We've also updated the search controls to match the recent list view enhancements. When viewing search results, You'll notice a new show advanced controls link. The controls now appear as a side column so they don't push your search results off the page.
Share: