Profile of the Day: Anne Boleyn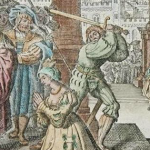 Today we remember Anne Boleyn, who was executed on this day in 1536 for treason and adultery.
The marriage between Anne and King Henry VIII had been scandalous from the start. The union plunged the country into political and religious upheaval, resulting in breakage from the Roman Catholic Church and the establishment of the Church of England. Soon after becoming Henry VIII's second wife, Anne gave birth to a daughter, the future Queen Elizabeth I.
After two miscarriages, Henry VIII grew frustrated that his marriage had yet to produce a male heir. He chose to take her maid-of-honour, Jane Seymour, as his next wife, but first had to find a way to end his marriage to Anne. The death of his first wife, Catherine of Aragon, gave him the perfect opportunity. Henry had her investigated for high treason and imprisoned in the Tower of London. During her trial, she was found guilty of adultery, incest and plotting to kill the king. She was executed by beheading on May 19, 1536. Her body was buried in an unmarked grave in the Chapel of St. Peter ad Vincula at the Tower of London. During renovations of the chapel in 1876, what was believed to be her body was identified. Today, her resting place is now marked in the marble floor.
How are you related to Anne Boleyn?


Image: Wikimedia Commons
Share: