Profile of the Day: Will Rogers
America's Cowboy Philosopher Will Rogers was born on this day in 1879. Known for his homespun humor and social commentary, Rogers was one of the most popular and highest paid stars throughout the 1930s.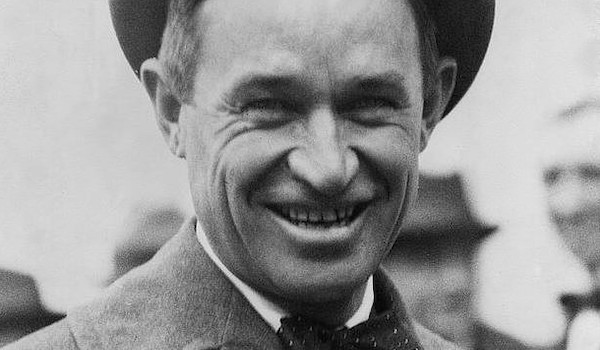 Image: Will Rogers / Library of Congress
He was born William Penn Adair Rogers on November 4, 1879 on his parents' Dog Iron Ranch in Cherokee Nation of Indian Territory near what is today Oologah, Oklahoma. His parents both had Cherokee ancestry and his father, Clement Vann Rogers, served as a Cherokee senator and judge in Indian Territory. Rogers famously quipped, "My ancestors didn't come over in the Mayflower – they met the boat."
Rogers began his career in show business as a trick roper in vaudeville and by 1916, he was a featured star in Ziegfeld Follies on Broadway. He also starred in a series of hit films and became one of the most popular actors in Hollywood. In addition to his acting career, Rogers was also known as a writer and penned a weekly column for the Saturday Evening Post. The column reached millions of readers around the country and featured his humorous and thoughtful commentary on American life and issues of the day.
An aviation enthusiast and advocate, Rogers befriended many famous aviators of the era. Sadly, on August 15, 1935, while on a flight over Alaska with famed aviator Wiley Post, their plane suffered from engine failure and crashed. Both men were killed instantly. Rogers was 55 years old at the time of his death.
Share: