Profile of the Day: William Shakespeare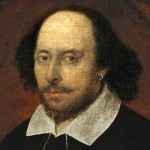 Today we remember playwright William Shakespeare, who died on this day in 1616. Considered one of the greatest writers of the English language, Shakespeare's vast body of work has been translated into every major language and are performed more often than those of any other playwright in history.
While the exact date of his birth is unknown, his baptism record states he was baptized on April 26, 1564 at the Holy Trinity Church in Stratford-upon-Avon. Since a child's baptism generally takes place just a few days after birth, it is generally accepted that he was born on April 23. Thus, he likely died on his 52nd birthday in 1616.
Although it is unknown exactly when Shakespeare began writing, by 1592, his plays were being performed on the London stage. For over 400 years, Shakespeare's plays have been performed all around the world and more than any other playwright in history. He wrote about 40 plays ranging from tragedies to witty comedies.
Shakespeare died on April 23, 1616 in Stratford-upon-Avon and was buried in the chancel of the Holy Trinity Church two days after his death.
What's your favorite Shakespeare play?
Explore William Shakespeare's family tree on Geni and share how you're related to the Bard of Avon!

Image: Wikimedia Commons
Share: