Projects 2.0
Since we introduced Projects we have been adding new features regularly and usage has continually increased.  This morning, we reached the milestone of 600 Projects on Geni.
Today we released the next major version of Projects. This release includes features that make it easier for Geni users to use projects for research and collaboration.  The Projects interface is similar, but there are many more features that we'd like to highlight.
Suggested Projects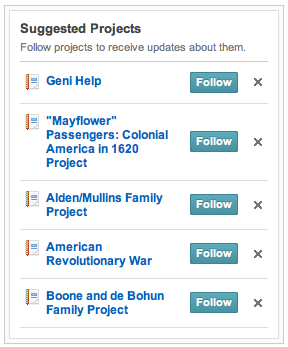 We can now suggest new Projects to you based on your existing projects and users and profiles you follow.  As more Projects become related, and more profiles are added to various Projects, this module should allow you to find new and interesting branches of your family tree.
Project Navigation
We have added some navigation and usability features to Projects.
The new menu on the right-bar of the Project pages provides easy access to all of the Project features, including:
Merge Issues
Project Profiles
Project Collaborators
Discussions
Documents
In addition, the right-bar menu will notify you when there are unread changes to the Project:
We also added an Options drop-down for more control over how you interact with Projects.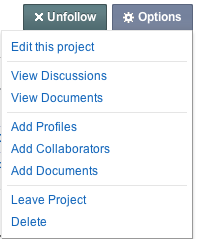 The new navigation features for Projects should allow easier and faster collaboration among Geni users.
Project Documents
You can now associate your Documents with a Project.  From the Project page, click the "Add a Document" link on the right to start this easy wizard which allows you to associate a Document to the Project.
You can also select Projects to associate with a Document from the Document repository:
Project List Highlighting
The Project List will now highlight Projects you follow that have been updated since you last viewed them.  In the example below, note the blue highlighting for the Geni Blog Project.
We hope you enjoy the new features in our latest release of Projects!
Share: