Remembering John Glenn
On December 8, legendary astronaut John Glenn died at the age of 95. A hero of the space age and the last of the original Mercury 7, Glenn inspired generations of scientists and explorers.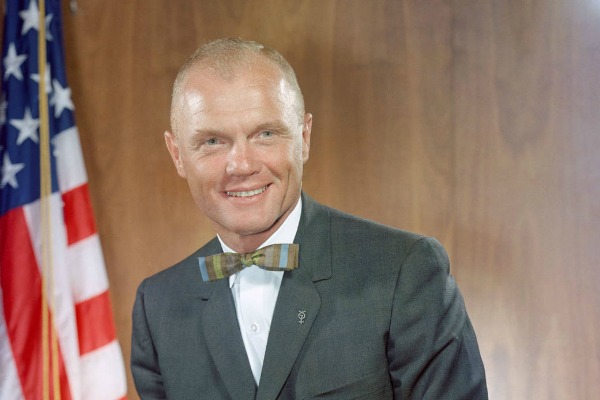 Image: NASA
Remembered best as the first American to orbit Earth, Glenn was also a national war hero and former U.S. Senator.
In honor of his memory, here are some interesting facts about the life of the American icon.
1. He grew up in a small town in Ohio.
Image: 1930 U.S. census / MyHeritage SuperSearch
John Herschel Glenn, Jr. was born on July 18, 1921 in Cambridge, Ohio. A few years after his birth, the family moved to the small town of New Concord, where his father ran a plumbing business.
Did you know Ohio is known as the "birthplace of aviation"? Not only was the state home to space pioneer John Glenn, but it was also the home of the Wright Brothers, Orville and Wilbur. Glenn was also one of 24 astronauts to come from the Buckeye state. Another famous space pioneer to call Ohio home was Neil Armstrong, the first man to walk on the moon.
2. He married his high school sweetheart, Anna.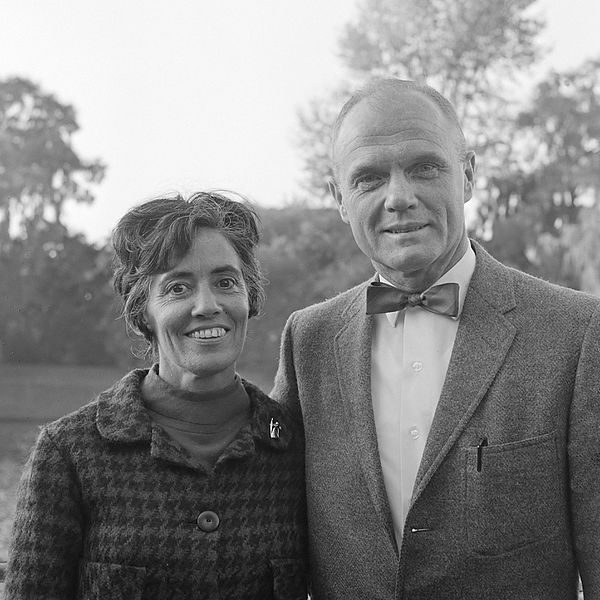 Image: Anne and John Glenn / Nationaal Archief (CC BY 4.0)
Glenn and Anne Castor met when they were just toddlers. The couple married on April 6, 1943 in New Concord. For most of her life, Anne suffered from a severe stuttering problem. After completing intensive speech therapy at the Communications Research Institute at Hollins College in Roanoke, Virginia, Anna was able to speak without much impediment and give speeches at public events.
The couple had two children and were married for 73 years until his death.
3. Shortly after the attack on Pearl Harbor, he enlisted as a United States Navy aviation cadet.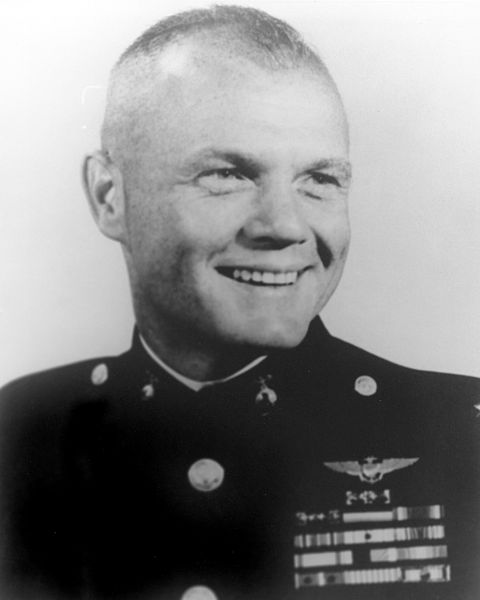 Image: U.S. Marine Corps
When the U.S. entered World War II, Glenn left college to sign up for the Naval Aviation cadet program. After completing his pilot training, he joined the U.S. Marine Corps. He flew 59 combat missions in the Pacific during the war.
4. He flew with future Hall of Fame baseball player Ted Williams during the Korean War.
During the Korean War, Glenn was assigned to VMF-311 and flew the new F9F Panther jet interceptor. He flew 63 combat missions and twice returned to base with over 250 holes in his aircraft. For a time, baseball player Ted Williams flew as Glenn's wingman.
5. He was the last of the original Mercury 7 astronauts.
Image: Mercury 7 / NASA
In 1959, Glenn was selected as an astronaut in the Mercury program. Known as the "Original Seven," Glenn was joined by astronauts Scott Carpenter, Gordon Cooper, Gus Grissom, Wally Schirra, Alan Shepard and Deke Slayton.
6. On February 20, 1962, Glenn became the first American to orbit Earth.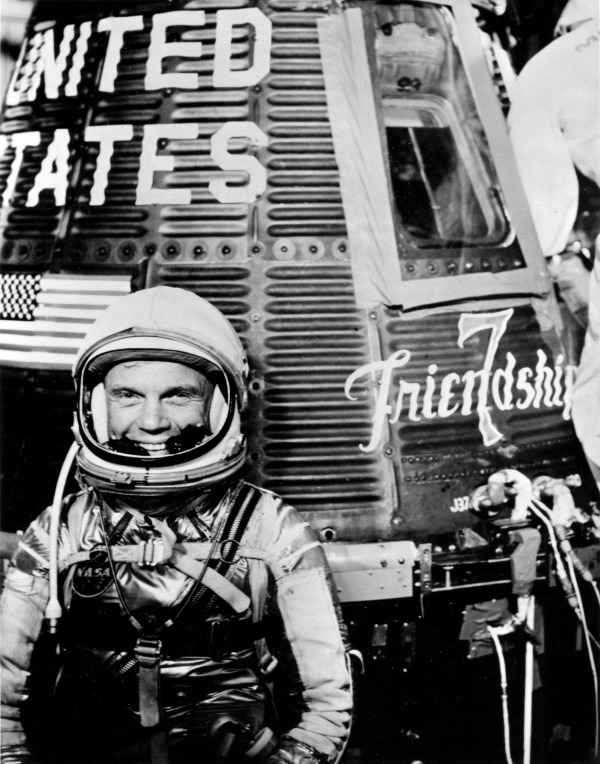 Image: John Glenn and the Friendship 7 spacecraft / NASA
Glenn piloted the Friendship 7 spacecraft, which launched from Cape Canaveral in Florida. He orbited the Earth three times before re-entering Earth's atmosphere. The mission lasted nearly five hours. Upon his return, Glenn became a national hero and was given a ticket-tape parade in New York City to celebrate his successful orbital flight.
7. He was a close friend of the Kennedys.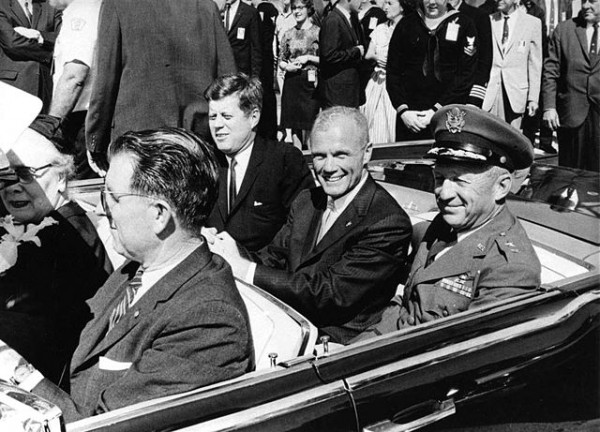 Image: NASA
President John F. Kennedy awarded him with the NASA Distinguished Service Medal for his flight and even escorted him in a parade at Cape Canaveral.
After announcing his retirement from NASA, Robert F. Kennedy encouraged Glenn to run for public office. A close friend of the Kennedy family, Glenn served as a pallbearer at Robert F. Kennedy's funeral in 1968.
8. He served four terms as U.S. Senator of Ohio.
He was the first popularly elected senator from his state to win four consecutive terms.
9. He returned to space at the age of 77.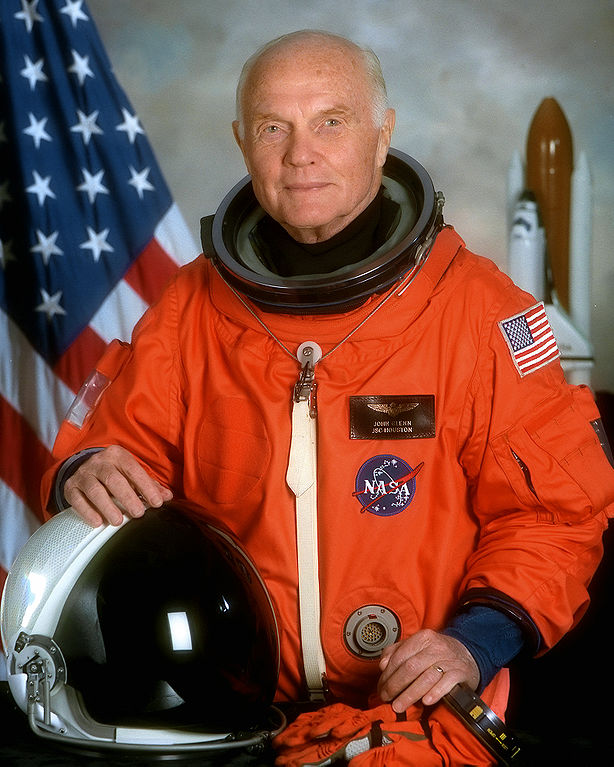 Image: John Glenn / NASA
In 1998, Glenn returned to space in the space shuttle Discovery. At the age of 77, Glenn became the oldest person to go into space. The purpose of the 9-day mission was to understand the effects of space flight on the aging process. A series of experiments were conducted on Glenn during the mission and the data was later compared to the data obtained from Glenn's mission on the Friendship 7.
10. He received the Presidential Medal of Freedom.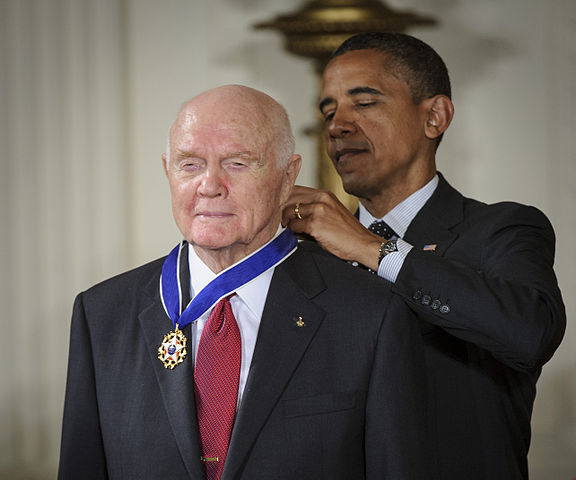 Image: John Glenn and President Barack Obama / NASA
In 2012, President Barack Obama award Glenn with the Presidential Medal of Freedom, the highest civilian honor that the country can bestow. The award came three months after the 50th anniversary of Glenn's successful orbit of Earth.
RIP John Glenn (1921-2016).
Share: