Remembering Star Wars Icon Carrie Fisher
On the morning of December 27, 2016, Star Wars icon Carrie Fisher passed away after suffering a heart attack on a flight from London to Los Angeles just four days earlier.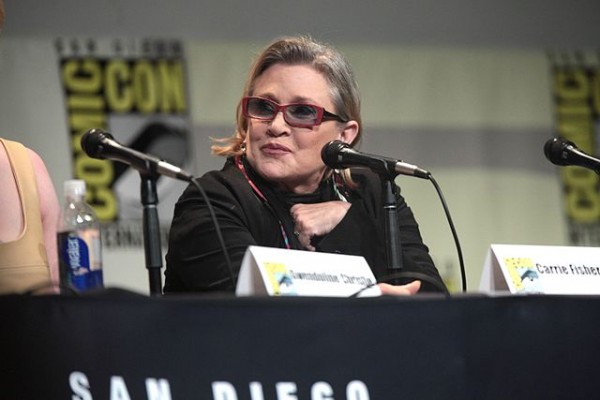 Image: Gage Skidmore / Wikimedia Commons 
An accomplished author, screenwriter and actress, Fisher was well known for her quick wit and candor. She held memorable parts in When Harry Met Sally and Hannah and Her Sisters, but she will perhaps forever be remembered for her iconic role as Princess Leia in the Star Wars films.
Here's a look at some things about Fisher's life you may not have known.
1. She was the daughter of Hollywood legends.
Image: Wikimedia Commons (CC BY-SA 2.0)
Carrie Fisher was born into show business royalty on October 21, 1956 in Beverly Hills, California to singer Eddie Fisher and actress Debbie Reynolds. She was only two years old when her parents divorced amidst one of the entertainment industry's biggest scandals. The couple split when it was revealed that Fisher was having an affair with Elizabeth Taylor, who was recently widowed following the death of her husband, and Fisher's best friend, Mike Todd.
2. She made her film debut in the 1975 comedy Shampoo.
Before she starred as Princess Leia in Star Wars, Fisher made her screen debut with a small role in the Warren Beatty comedy Shampoo. Just two years later, Fisher would take on her most iconic role in Star Wars and become a household name.
3. Dan Aykroyd once saved her life.
During the filming of The Blues Brothers, Fisher choked on a Brussel sprout. She was saved by Dan Aykroyd, who performed the Heimlich maneuver on her to dislodge the vegetable. Fisher and Aykroyd were briefly engaged before calling off the relationship.
4. In 1987, she wrote her first novel, Postcards From the Edge.
The semi-autobiographical novel was a fictionalized take on Fisher's real-life drug addiction during the 1970s and her complicated relationship with her mother. In 1990, the best seller was adapted to film and starred Shirley MacLaine and Meryl Streep as the show business mother and daughter. Fisher would receive a BAFTA Award nomination for Best Adapted Screenplay.
In addition to her fiction work, Fisher also wrote several memoirs, including the recently released book, The Princess Diarist, in which she revealed her surprising affair with Harrison Ford during the filming of Star Wars.
5. Fisher was one of Hollywood's best script doctors.
Many would be surprised to learn that Carrie Fisher had a hand behind the scenes in some of Hollywood's most popular films. When a film's dialogue needed an extra punch, Fisher was sought to help fix it. She spent many years as one of Hollywood's most in-demand script doctors.
Fisher helped make changes to a variety of films including Hook, Sister Act, and The Wedding Singer. She also reportedly did some uncredited work on the scripts for the Star Wars prequels.
6. She spoke openly about her mental health and history with addiction.
Fisher often spoke openly about her bipolar disorder and her addiction to cocaine and prescription medication. This year, Harvard College awarded Fisher its Annual Outstanding Lifetime Achievement Award in cultural Humanitarianism for her activism and outspokenness about addiction and mental health.
7. She lived next door to her famous mother.
Despite their complicated relationship, both mother and daughter remained close and even lived next door to each other for many years. The HBO documentary about their relationship, Bright Lights: Starring Carrie Fisher and Debbie Reynolds, is slated to air next year.
Shortly after the announcement of Fisher's death, Reynolds shared on Facebook:
Carrie Fisher is survived by her daughter, actress
Billie Lourd
, her mother Debbie Reynolds, brother Todd Fisher, half-sisters Tricia Leigh Fisher and Joely Fisher, and her beloved dog Gary.
Share: