Reunited After Death
Not even death can keep this couple apart. Below are the graves of Colonel JWC van Gorkum, a Protestant, and the Catholic CJHP van Aefferden, a woman of nobility in the region.
In 1842, the Dutch couple were married in the Netherlands. Because of their different religious affiliations, their "mixed" union was quite controversial for the time. Despite the scandal, the couple remained married for 40 years, until van Gorkum died in 1880. He was buried in the Protestant section of Begraafplaats Nabij de Kapel in 't Zand (Roermond). Just eight years later, van Aefferden also passed away. Before her death, she made it clear that she would not want to be buried in her family tomb, but beside her husband. However, pillarisation, the segregation of a society according to different religions or ideologies, was taken very seriously at the time. Under no circumstances would Catholics and Protestants be buried in mixed cemeteries.
A solution to this problem was discovered. At Roermond, both graves were placed on either side of the wall dividing the Protestant burials from the Catholic burials. A grave marker was erected on both sides stretching above the wall and joined in hand to connect the couple, thus reuniting them after their deaths.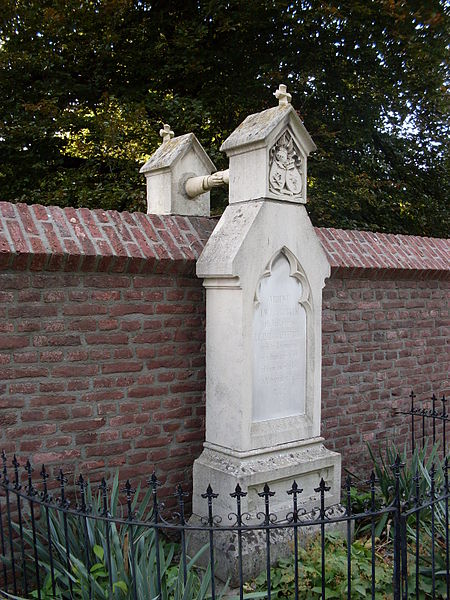 Image: Frank Janssen, Wikimedia Commons (CC BY-SA 3.0)
What do you think about this touching story of a couple who overcame their society's segregation in order to remain united after their deaths? What unique grave markers have you found on your genealogical journeys?
Share: