Statistics and Lists: Now Free!
Two features that were previously available to Pro users only are now free for all Geni users:
Statistics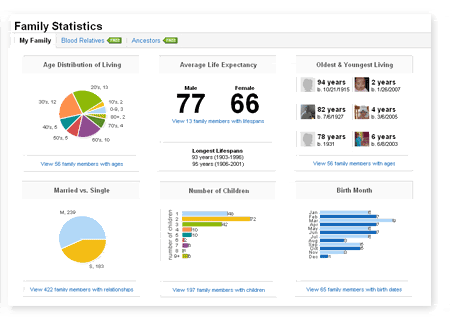 Now all users can view the entire suite of fifteen statistics for their ancestors and blood relatives. From average life expectancy and country of birth to most common first names and surnames, now you can learn about your relatives in a visual, easy to read format. Every chart is also a link to the list of names that make up the chart so you can drill down into the data. You can even edit the data in the lists to make your charts more accurate and complete!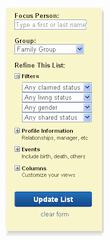 Custom Lists
All of the advanced list controls you can use to refine and customize lists are now available for all users. You can filter lists by status, dates, profile attributes, and more. Dozens of columns are also available to help you build the perfect list for you.
We've also moved the controls to the left column for better access and to let you view more of your list in single window.
Share: