The Life of William Shakespeare
While the world celebrated the 400th anniversary of William Shakespeare's death on April 23, today marks the day the Bard was baptized.
Image: Wikimedia Commons
Although the exact date of William Shakespeare's birth is unknown, we do know the day he was baptized thanks to his baptism records. He was baptized at the Holy Trinity Church in Stratford-on-Avon on April 26, 1564. Since a child's baptism generally takes place just a few days after birth, it is generally accepted that he was born on April 23, and therefore it is also possible that Shakespeare died on his 52nd birthday.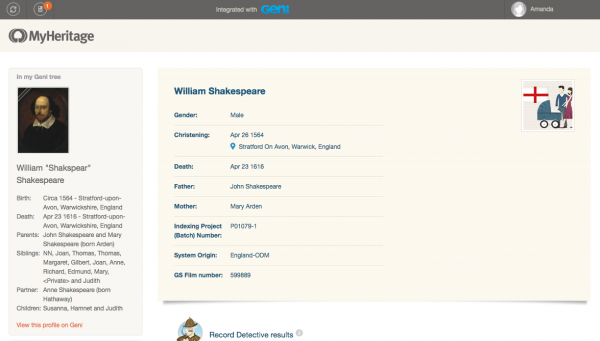 MyHeritage Record Match for William Shakespeare's baptism
What is known is that Shakespeare was born in 1564 in Stratford-upon-Avon to John Shakespeare, an alderman and successful glover, and Mary Arden, the daughter of a wealthy landowning farmer. His parents were first cousins.
William Shakespeare's family tree on Geni
Shakespeare was the third of eight children. Of the five children to survive into adulthood, Shakespeare was the eldest surviving son.
At the age of 18, Shakespeare married 26-year-old Anne Hathaway in a wedding that may have been thrown together in haste. Six months after their nuptials, the couple's first child, a daughter named Susanna, was born. Two years later, twins Hamnet and Judith, were born. Hamnet died at the age of 11.
Image: Wikimedia Commons
It's not known exactly when Shakespeare began writing, but by 1592, his plays were being performed on the London stage. Considered one of the greatest writers in English literature, Shakespeare wrote nearly 40 plays and over 150 poems. Today, his plays have been performed more often than those of any other playwright in history.
Image: David Jones, Wikimedia Commons (CC BY 2.0)
Shakespeare died on April 23, 1616 and was buried in the chancel of the Holy Trinity Church, the same church that he was baptized, two days later. He was buried next to his wife, Anne, and Thomas Nash, the first husband of his granddaughter Elizabeth. Written on the stone on his grave is a warning to those who dare to move his bones:
Good frend for Iesvs sake forbeare, To digg the dvst encloased heare. Bleste be the man that spares thes stones, And cvrst be he that moves my bones.
Have you read the works of William Shakespeare? What's your favorite Shakespeare play?
Share: