Twenty Languages. One Tree.
Geni's user base is truly international, with family trees extending around the globe. Our largest tree connects users from Israel to Estonia, from Norway to Malaysia, and just about everywhere in-between. Over half of our users come from outside of the United States, even though Geni has only been available in English – until now.
A few weeks ago we invited a small group of users to use our new translation tools to translate Geni. The response has been fantastic – a few dozen volunteer translators have translated the site into twenty languages in less than two weeks.
Letting users around the world use Geni in their native language is an important step towards our goal of creating a single family tree of the entire world. Every tree support multiple users with multiple languages. Users can switch languages on the fly, and every part of Geni is available in every language we support. 
Switching Languages 
Use the new language selector to switch languages. Click on "English" on the top right of any Geni page to open the language selector:
Choose your language from the "Other Languages" section to switch languages. Your selected language is added to the "Your Languages" list. You can add as many languages as you'd like. Click on English to switch back.
That's all you need to do to switch to your favorite language and start inviting those relatives you've been waiting to invite!
Translating
All Geni translations have been provided by volunteer translators. You can help translate Geni, even if your language is already translated. You can vote on existing translations, and add new translations as we update the site.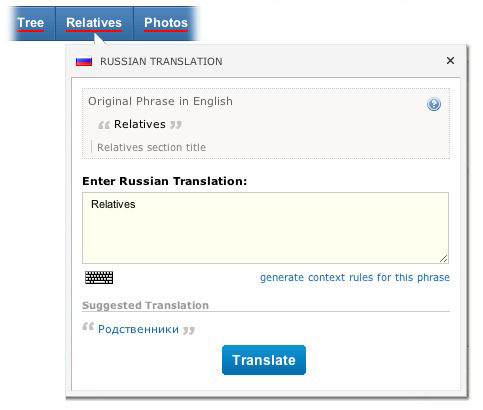 Use the "Enable Inline Translations" link in the language selector to start translating the site. When you see a phrase with a red underline, right-click (or Control-click on a Mac) to translate it. Use the "Translation Tools" link in the language selector for advanced translation tools.
Additional Languages
We're trying to determine which languages we should translate next. If your language is not in the list below, send an email to translate@geni.com and let us know which language you'd like us to add and whether you would be willing to help us translate.
Languages
Geni is currently available in: Hebrew, German, Spanish, Russian, Polish, Czech, Estonian, Danish, Norwegian, Swedish, Finnish, Slovak, French, Icelandic, Lithuanian, Ukranian, Hungarian, Turkish, Portuguese, and Indonesian.
Share: