Updates: More Wikitext and Project Notifications
This week we released two updates to the site.  The first is the addition of Wikitext support to the "About Me" section of profiles.  The second is the addition of Projects to the Notifications box that you see on your home page after you log in.
"About Me" Wikitext
Wikitext markup is now supported in the "About Me" section for profiles.  When you edit any profile that you manage, you'll find a Wikitext editor on the About Me tab.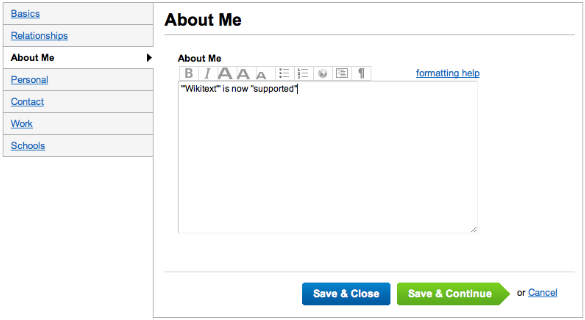 Wikitext makes it easier to create logical, hierarchical documents that are both easy to read and update.  It also makes it easy to add links to other pages of the site, such as related Profiles or Project pages.  If you are not familiar with Wikitext, use the "formatting help" link that appears above the text editor for some tips and instructions.
Project Notifications
After logging in, the "Notifications" box appears on the right side of the page.  We have updated this box to display Projects that have been updated since you last viewed them.

Coupled with our Projects updates from last week, these notifications help make it easier for users to interact with Projects.
Share: