Webinar: Advanced Features on Geni.com – Register Now
Join Geni's General Manager Mike Stangel for a free webinar, "Advanced Features on Geni.com" with Legacy Family Tree Webinars on Tuesday, May 14, 2019.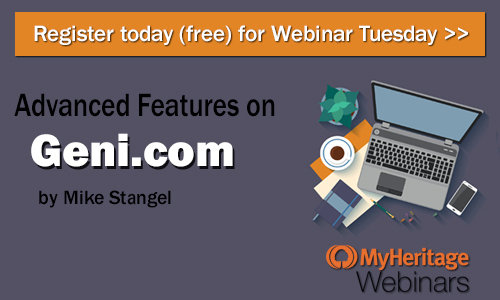 Take a deep dive into some of Geni's more advanced features to grow and connect your family tree to the World Family Tree of over 130 million profiles. Learn about GEDCOM imports, merging duplicates, managing profiles, uploading images and documents, and much more.
The live webinar will take place Tuesday, May 14, 2019 at 11:00am PDT. Register now to reserve your virtual seat. Registration is free but space is limited to the first 1,000 people. If you receive the message that the webinar is full or are unable to make it to the live session, a recording of the webinar will be available to watch later.
Share: