Your Stories: Solving Genealogy Puzzles
Since the first grade, Geni Curator Jim Wile knew what he wanted to be when he grew up. With dreams to become a math teacher, Jim was working towards his degree in education when his birth date was called in the military draft lottery. He enlisted in the U.S. Army and was assigned to the 902nd Military Intelligence Group.
Despite his three-year detour, Jim went on to achieve his goal to become a teacher of mathematics for the Conestoga Valley School District. Now a retired teacher, Jim spends his time working part-time teaching students to become elementary teachers and doing genealogy research.
Below, Jim shares his journey learning about his family history and how Geni played an important role on his road for genealogical discoveries.
Getting Started and Reconnecting with Family
Before the advent of the Internet, Jim had purchased a genealogy software program for his wife, Susanne. While she diligently entered her own family records, she didn't add much past Jim's grandparents. Although intending to dive into researching his own family history, Jim found there was little time to spare between his work and family.
"After my retirement as a math supervisor, I worked as a full time instructor at a college, but I still found that I had free time to begin my genealogy quest. The limitations of using software running on a single computer caused me to look for an Internet solution for making family trees. I found that my daughter was added to a family tree site named Geni by her husband's family. I decided to join her and the Geni family in February 2009. I am forever thankful that I joined Geni."
Over the years, members of his extended family had grown apart, but with Geni, Jim found that he could once again bring them together.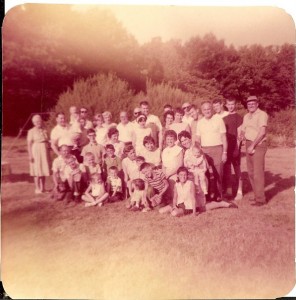 Old family reunion
"I was born into families that lived in the same county and gathered often for family get-togethers. As the children grew, the reunions lessened until they were no longer held. For years I have had very little contact with my cousins. My genealogical work on Geni inspired me to reconnect by sending them information about their ancestors. My cousins were thrilled to learn about their ancestors. I recently connected with the daughter of one of my deceased cousins. She did not know much about her Wile roots. I have shared stories and pictures about the Wile family on Facebook. She is excited about her newly discovered family. Geni has helped me provide information about our common heritage and reconnect with relatives that were once very close. My biggest regret is that I did not start my research earlier. I would have loved to share stories with my grandparents and father, but unfortunately they are deceased."
Now that he was working online, he was set to tackle his first genealogical puzzle.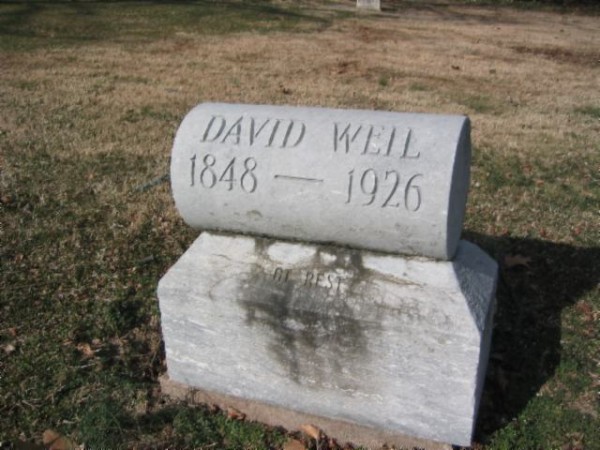 Jim's first genealogical breakthrough in tracing Wile
"My first struggle in my genealogical quest was the "Wile" tree. I could not find any information beyond my great grandfather, John E. Wile. I decided to widen the tree by including siblings of my great grandparents. Through a marriage certificate of one my great uncles, I found the names of his parents: David and Louisa Wile. Armed with the names of my great-great grandparents, I searched every genealogy site that I could find. Most of those paths led to Wile families in Nova Scotia rather than Pennsylvania, United States. I recalled a family story that my great grandfather changed his name to Wile from Weil because he had a "fight" with his brother and did not want to share the same name. This extended my search for David and Louisa Weil and finally found their memorials and gravestones on Find-a-Grave. I also noticed that all of David's children spelled their name "Wile" except for Emanuel and Edith, who retained the "Weil." Perhaps the family story is true.

I learned a lot through my struggles and encountering many dead ends in my research. I started to keep a notebook of possibilities, followed every lead, use extensive resources on the Internet, and pursued my research as if I was putting together a large jigsaw puzzle. I learned to include information about siblings and their families on the tree to give me more leads."
Solving A Genealogical Conundrum
After much work, Jim made a breakthrough, but alas, it only lead to more questions.
"It took months of research but I made steady progress and found my emigrant Weil – Johanns Frederick Weil from Weilburg, Germany. Unfortunately, I found two of them. One emigrated to Nova Scotia and the other to Philadelphia and then to Goshenhoppen, PA. Having two men from the same area with the same name made research much more difficult. I persisted and was able to establish the ancestors of Johanns of Goshenhoppen. I placed the information on Geni and received a message from another Geni user thanking me for establishing separate identities for the two Weil men. He is a descendant of the Nova Scotia Johanns and I am a descendant of the one that landed in Philadelphia. It was energizing to know that my work was also a benefit to another. Using Geni, a shared platform, has broader affect than a private tree. My teacher personality parallels the advantages of using Geni. More people benefit from my work."
Now that Jim had one mystery solved, he was brought in to help with another.
"After I thought my Wile tree from Johanns was complete, I received a message from Gregory Guiney, a Geni user, asking me if I had any information that could help him trace his ancestors named "Wiles." By this time, I found researching and solving puzzles interesting and enjoyable. I spent hours learning how to search and became more efficient at joining the pieces of the puzzle together. I gladly volunteered to help Gregory.  It only took a few days before I traced the Wiles in his family to Johannes Frederick Weil from Goshenhoppen. Gregory was thrilled and I gained a more complete picture of my emigrant ancestor's family.

In 1754, Johanns, his wife Maria Catherine and their son Jost from Weiburg, Germany departed Rotterdam on a ship named "Nancy." The captain of the ship listed his name as "Weill." Maria Catherine died on the journey to Philadelphia. After landing, Johanns traveled to Goshenhoppen because it had a large Mennonite population. The minster of his church introduced Johanns Frederick to a widow, Anna Margaretha Gott. They got married and became the parents of seven children. The minister that baptized their children recorded all but one of them with the name "Weil." Gregory was a descendant of Jost Wiles, the son of Maria Catherine and Johanns. A branch that I did not know existed."
This new genealogy quest taught Jim a valuable lesson about the spelling variations of surnames, especially those for pioneer emigrants to the U.S. from Germany and Switzerland.
"Pronunciation, writing ability, illiteracy, translations of German characters, ship logs, minister baptism records cause frustrations to anyone trying to determine the root of their birth name. This lesson in surnames helped me with my research with my Lancaster County roots. It is very common to find a surname that is spelled different by siblings and/or generations. A similar complication happens with first and middle names. Family Bibles often use nicknames or phonetic spellings. Veronica, Fronica, Feronica are often the same person and nicknamed Fannie. Frances is also Fanny. Mary was a nickname for Maria and Harry was Henry. I have encountered many Swiss/German families that named each son Johannes but referred to them by their middle name. Johannes might be written as Johan, Johann, Hans, or translated to John."
Expanding into New Branches
Jim has also found time to expand to new areas of the tree.
"Whenever I needed a break from the search of Weils, I worked on other branches of my tree. While working on my mother's side, I discovered that Bishop Hans Herr from Lancaster County was my grandmother's 7th great grandfather. Could this be the same Hans Herr that is the namesake of the Hans Herr Middle School and the Hans Herr House, a short distance from my house? It was a thrill when I substantiated that it was the same person. I started to study the history of Bishop Hans Herr. I found a map that showed that I live on land that was sold to the Herr party by William Penn."
Soon Jim's research led him to find his connection to millions of others in Geni's World Family Tree and opened the door to many new possibilities.
"Curator Dan Cornett noticed that I added Bishop Hans Herr to my tree and merged the common profiles with those already part of Geni's World Family Tree. This connection to the World Family Tree was an exciting and eye-opening event. It was a shock to see that my ancestors included historical figures, kings, nobles, and saints. It was unbelievable that my humble grandmother with a Dunkard background was my gateway to such prominent people. It was exciting to share my discoveries with my family."
Getting the Most Out of Geni
This amazing turn of events proved to be a turning point for Jim and his use of Geni.
"I created a project to place and/or identify all Bishop Hans Herr descendants on Geni. This project is intended to supplement Theodore's book, Genealogical Record of Reverend Hans Herr and His Direct Lineal Descendants by including information on the profiles that he did not record, the addition of profiles born after he completed his book, and the correction of errors in his book. I have now placed a placard with the number assigned by Theodore Herr on 9600 of the 13,200 descendants of Hans Herr from his book."
View the Supplement to Genealogical Record of Reverend Hans Herr by Theodore Herr project
As Jim continued his work on Geni, he began to appreciate all the tools the site could offer.
"It is difficult to list all the beauties of Geni since there are so many valuable tools. SmartCopy allows one to copy information from major genealogical trees and sites without much typing. HistoryLink shows you he completeness of your tree and those ancestors that are listed in projects; collaboration is an invaluable asset to extend and improve your tree; information from MyHeritage provides valuable leads, newspaper articles, and census data; curators are always willing to help; the Geni customer service and management is responsive and always supportive of the users; and the discussions allow for a common place to dialog about each ancestor as well as any genealogical topic."
Finding he enjoyed helping others, Jim became even more involved in the Geni community.
"To me it is not work, it is an exciting hobby. I enjoy helping others, making new discoveries, creating worthy projects, and recognizing the lives of our ancestors."
In May 2015, Jim became a volunteer Geni curator.
"I'm glad I did. I now have more tools and resources to help others. I have made mistakes but overall I hope that my work has been an asset to Geni, but more importantly, to the Geni users. There are some users that have not yet discovered the value of being part of a collaborative world tree. I hope someday they realize the full beauty of Geni."
Many users have shown their appreciation of Jim's hard work, one even calling him a "Christmas Angel." Another tore at his heart when she revealed that she knew nothing of her father or his ancestors before she joined Geni. His genealogical work has also taught him more about history than all his years in school.
"Geni has made history come alive for this old math teacher!"
Thank you to Jim for sharing his experiences with us! Do you have a story to share? Email us at community@geni.com .
All photos courtesy of Jim Wile
Share: