Your Stories: Uncovering Finnish Roots Leads to New Family Connections
Debra Jeanne Ryon-Weathers is from North Las Vegas, Nevada. She was born to Helen Jeanne Bay-Ryon-Jarviz and William Eugene Ryon. Debra's parents met while her father was stationed at the Naval Base in Astoria, Oregon and married when Helen was only 14 years old. When she was three, her mother left the family and started a new life with Gene Jarvis. Her father became a fisherman and worked the sea from Astoria to Alaska in the Finnish tradition that was a great part of Astoria. He was in no position to care for six children, so he surrendered the brood to foster care. While all the children knew of each other, they did not get much time to bond growing up.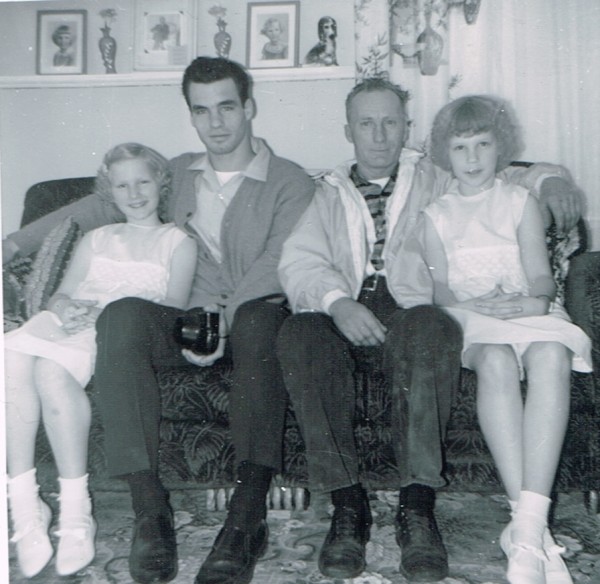 William Eugene Ryon with oldest son Jerry and daughters Debra and Paula
It wasn't until a vacation to Las Vegas did she feel her life finally take off.
"I met Ken Weathers, a casino employee and neighbor. Four days later we were married and have been married for 33 years and have a beautiful daughter, Chrystal. We ended up living in Key Largo, Florida for approximately 10 years, which was great fun for all of us, and then came back to Las Vegas, my husband's hometown where we reside in North Las Vegas."
Debra became aware of her family history on a trip to Astoria with a friend. Her friend wanted to stop and see the temple in Salt Lake City.
"When I started out approximately 10 years ago, I did not even know my mother's first name was Helen. When my sister found out I was trying to trace our family tree, she was well into genealogy and a DAR member. She gave me a wonderful springboard into it. As I started working and finding documents, this fabulous world opened up. I was no longer just a foster kid. I had generations of ancestors that covered centuries to pass on to my daughter."
Before joining Geni 7 months ago, Debra was encountering some struggles in her genealogy research.
"At that time, I had two huge brick walls 1) Trying to understand records from Finland where my mother's family came from and 2) My father's side has a name change in early Tennessee history."
Once she joined Geni, she found an amazing community of Finnish users who helped her correct her translations of Finnish records, which in turn helped correct her tree.
"Once it was corrected, it took off so fast I cannot keep up. Generation upon generation started matching up. I am still working on trying to find where every family that immigrated ended up for my Finnish relatives. This is the most profound discovery ever for me. They knew of our ancestors and wanted to add us to their family trees. I get the feeling that genealogy in Finland is very well researched and a big part of the lives of the people I have been able to contact through Geni.com and MyHeritage. I have been sent pictures of areas where branches of my family came from. I am overwhelmed with joy."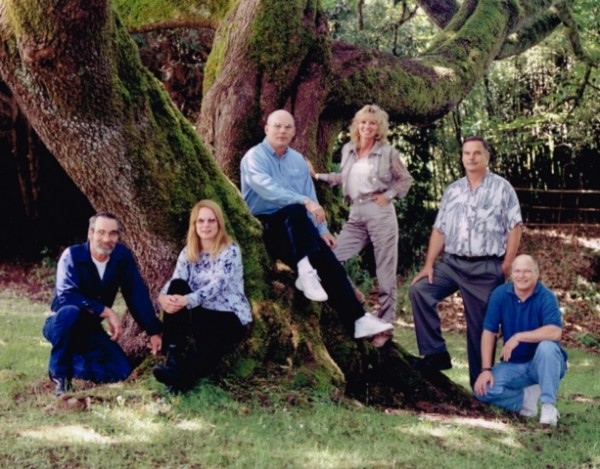 Debra and her siblings
Finding her connection to Geni's World Family Tree has opened up many new paths and Debra is enjoying sharing her new discoveries with her relatives.
"My family was laughing a little at first when lineages would take them to famous people, now it's become interesting to them. My sister-in-law says she loves John Wayne. I can now show her how she is married to a relative of his. My sister who is very much into documentation as I am is finding that our tree on Geni is very stable and that the paths can be verified.

Discovery is what Geni is all about. With computer-generated databases, you can find out in seconds your connection to almost anyone. The more people you have in the tree, the more connections can be made. One of the best finds was being told for 30 years your husband is related to Pocahontas, but with Geni.com, I was able to match my sources with sources from others and find the exact path beyond any doubt for him and my daughter."
And finding connections with cousins she's never met has been an incredible experience for Debra. They've become friends on Facebook and share pictures everyday so they get to know not just her, but her siblings as well.
Debra's advice for genealogists comes down to one word: collaborate.
"Collaborate, collaborate. Genealogists have spent years researching different areas and much of their work is on Geni.com. You can always ask when you do not know. I asked people half way around the world and I will never regret it or be able to thank them enough."
And her most important message for people interested in their family history,
"Where to start does not matter as much as starting. If you are a person or know of a person at any age that has little to no family roots, find them. For yourself and others. Give yourself and your family members a history. Give them people to look up and be proud of. A family tree can be a stable thing, making and helping to make a stable life not just for one person but for many."
We'd like to give a special thanks to Debra for sharing her experiences with us. Do you have a story to share? We'd love to hear it! Send us an email at community@geni.com.
All images courtesy of Debra Jeanne Ryon-Weathers
Share: