MyHeritage LIVE 2018: Lectures now online!
We are excited to share that Geni will be participating in the first-ever MyHeritage user conference and you're invited! MyHeritage LIVE will take place on the weekend of November 2-4, 2018 in Oslo, Norway. The conference is open to anyone around the world who would like to learn more about Geni and MyHeritage.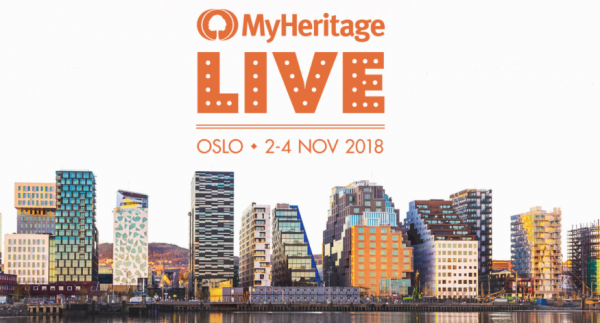 The conference will feature a keynote speech from MyHeritage Founder and CEO Gilad Japhet, a lecture and workshop from Geni's General Manager, Mike Stangel, international guest speakers, and talks from other senior MyHeritage staff members.
There will be three tracks: genealogy, DNA, and hands-on workshops. Learn from renowned experts in the fields of genealogy and DNA or get some hands-on experience in one of the many workshops available. Individuals of all experience levels are welcomed to attend and participate.
View the MyHeritage LIVE Conference Schedule
There will also be plenty of opportunities to ask questions and meet other Geni and MyHeritage users as well as Geni Curators. It's the perfect chance to see your fellow collaborators and Geni's helpful team of expert curators in person!
Tickets include entry to the Friday night reception, keynote speeches, and all conference sessions. They also include lunch and coffee breaks on Saturday and Sunday and entry to the exclusive MyHeritage LIVE party on Saturday night.
The conference will be held at the Radisson Blu Scandinavia hotel, which is conveniently located right in the center of Oslo. The hotel is within walking distance of the Royal Palace and National Gallery, so you don't have to go far to experience some of Norway's rich culture and attractions.
Space is limited, so be sure to reserve your spot before the Early Bird discount ends!
For a list of nearby hotels, details on how to get to the venue from Oslo airport, and other information, please check the FAQs on the MyHeritage LIVE website.
We hope to see you there!
Møt Geni på MyHeritage LIVE

MyHeritage LIVE 2018: Lectures now online!
Vi er glade for å kunne fortelle deg om at Geni vil delta i den aller første MyHeritage brukerkonferansen, og du er invitert! MyHeritage LIVE vil finne sted i Oslo helgen 2.-4. november 2018, og vi ville sette stor pris på om du vil delta. Konferansen er åpen for alle, fra hvor som helst i verden og som ønsker å lære mer om Geni og MyHeritage.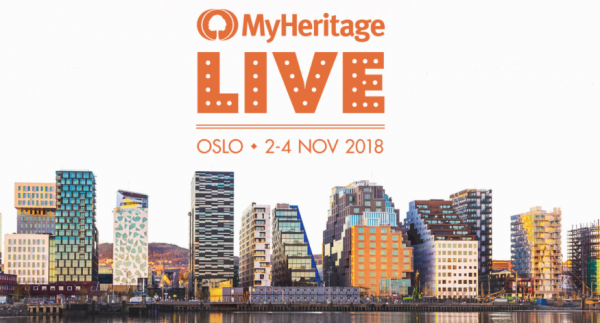 Konferansen vil inneholde en velkomsttale fra MyHeritage-grunnleggeren og konsernsjef Gilad Japhet, foredrag og demonstrasjoner fra Genis daglige leder, Mike Stangel, internasjonale gjesteforelesere, samt foredrag fra andre erfarne MyHeritage-ansatte.
Det vil bli tilbudt simultanoversetting til norsk på hovedforedragene.
Det vil være tre hovedlinjer: slektsforskning, DNA, praktiske arbeids-sesjoner. Lær fra kjente eksperter innen slektsforskning og DNA, eller få
litt praktisk erfaring i en av de mange arbeidsgruppene som er tilgjengelige. Uansett ferdighetsnivå er alle velkommne til å delta.
Vis MyHeritage LIVE konferanseprogrammet
Det vil bli mange muligheter til å stille spørsmål og møte andre Geni og MyHeritage brukere, samt Geni kuratorer. Det vil være en perfekt anledning til å personlig møte dine samarbeidspartnere samt Genis hjelpsomme team av kuratorer!
Billetter inkluderer mottakelsen fredagskveld, hovedtaler og alle konferanse øktene. De inkluderer også lunsj og kaffepauser på lørdag og søndag samt adgang til MyHeritage LIVE-festen på lørdag kveld.
Konferansen vil finne sted på Radisson Blu Scandinavia Hotel midt i Oslo sentrum, i gangavstand til slottet og nasjonalgalleriet, så du trenger ikke dra langt for å oppleve norges innholdsrike kultur attraksjoner og severdigheter.
Antall plasser er begrenset, så husk å reservere din deltagelse snarest mulig før Early Bird-rabatten slutter!
For en liste over nærliggende hoteller, detaljer om hvordan du kommer til konferansen på Radisson Blu Scandinavia Hotel fra Oslo lufthavn samt annen informasjon, vennligst sjekk FAQs på MyHeritage LIVE nettsiden.
Vi håper å få se deg der!
Ontmoet Geni op MyHeritage LIVE
We zijn blij om u te vertellen dat Geni zal deelnemen aan de allereerste MyHeritage gebruiker conferentie en u bent uitgenodigd!
MyHeritage LIVE vindt plaats in Oslo, weekend 2-4. November 2018, en we zouden het op prijs stellen als u zou willen deelnemen.
Het is open voor iedereen die meer wil weten over Geni en MyHeritage, van overal in de wereld - zijn betalende gebruikers, DNA-klanten, die met een gratis basis-account, evenals degenen die geen gebruik hebben gemaakt van Geni of MyHeritage en meer te weten willen komen.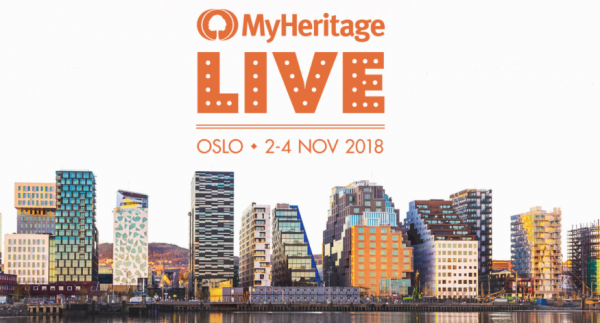 De conferentie zal starten met een welkomstwoord van MyHeritage-oprichter en CEO Gilad Japhet, lezingen en demonstraties van algemeen manager van Geni, Mike Stangel, evenals lezingen van andere ervaren medewerkers MyHeritage en internationale gastsprekers .
De lezingen zijn in het engels, maar bij de tijdens hoofdcolleges wordt ook een simultaanvertaling aangeboden aan het Noors en andere talen indien dat nodig is.
Er zullen drie hoofdonderwerpen zijn: genealogie, DNA en praktische werksessies. Leer van bekende experts in genealogie en DNA of doe praktische ervaring in een van de vele beschikbare werkgroepen. Welk niveau dan ook, iedereen is welkom om deel te nemen.
Toon MyHeritage LIVE-programma van de conferentie
Er zullen veel mogelijkheden zijn om vragen te stellen en andere Geni- en MyHeritage-gebruikers te ontmoeten, evenals Geni-curatoren. Het zal een perfecte gelegenheid om persoonlijk te ontmoeten de mensen waar mee u samenwerkt en het behulpzame curatoren team!
Tickets zijn inclusief de receptie van vrijdagavond, hoofdgesprekken en alle conferentiesessies. Ze omvatten ook lunch- en koffiepauzes op zaterdag en zondag, evenals toegang tot het MyHeritage LIVE-feest op zaterdagavond.
De conferentie vindt plaats op ! 1s2018-09-30! 8m2! 3d59.9185713! 4d10.7339016 Radisson Blu Scandinavia Hotel het hart van Oslo, op loopafstand van het kasteel en de nationale galerie, zodat u niet ver hoeft te gaan om het rijke culturele attracties en bezienswaardigheden van Noorwegen te ervaren.
Het aantal plaatsen is beperkt, dus reserveer zo snel mogelijk uw deelname voordat de Early Bird-korting afloopt!
(De uitdrukking is the "Early Bird get the wurm:" en hier betekend het dat al je vroeg genoeg bent, dan krijg je de korting, maar dat is wijsheid achteraf.)
Voor een lijst van hotels in de buurt, details over hoe de conferentie in het Radisson Blu Scandinavia Hotel Oslo Airport en andere informatie te krijgen, kijk dan veelgestelde vragen op MyHeritage LIVE-website.
We hopen je daar te zien!
( mocht er geweest zijn laat het even weten en voeg je zelf toe aan het project, maar mogelijk word je wel om bewijs gevraag, dus een foto vanaf Oslo waar je zelf op staat)
Ontmoet Geni op MyHeritage LIVE
Ons is bly om u te vertel dat Geni sal deelneem aan die allereerste MyHeritage gebruiker konferensie en jy is uitgenooi!
MyHeritage LIVE vind plaas in Oslo, naweek 2-4. November 2018, en ons sou dit op prys stel as jy wil deelneem.
Dit is oop vir almal wat meer wil weet oor Geni en MyHeritage, van oral in die wêreld - sy betalende gebruikers, DNA-kliënte, wat met 'n gratis gebaseer rekening, sowel as diegene wat geen gebruik gemaak het van Geni of MyHeritage en meer te wil weet.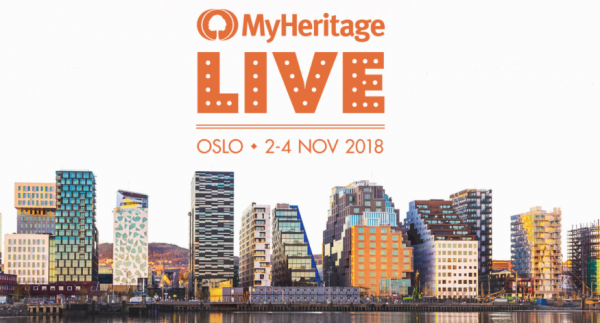 Die konferensie sal begin met 'n welkom van MyHeritage-stigter en hoof uitvoerende beampte Gilad Japhet, lesings en demonstrasies van algemeen bestuurder van Geni, Mike Stangel, sowel as lesings van ander ervare personeel MyHeritage en internasionale gassprekers.
Die lesings is in die engels, maar by die tydens hoofdcolleges word ook 'n gelyktydige interpretasie aangebied aan die Noorse en ander tale indien dit nodig is.
Daar sal drie hoofonderwerpe wees: genealogie, DNA en praktiese werksessies. Leer van bekende kundiges in genealogie en DNA of doe praktiese ervaring in een van die vele beskikbare werkgroepe. Wat ook al, almal is welkom om deel te neem.
Wys MyHeritage LIVE-program van die konferensie
Daar sal baie geleenthede wees om vrae te stel en ander Geni- en MyHeritage-gebruikers te voldoen, sowel as Geni-kurators. Dit sal 'n perfekte geleentheid wees om persoonlik die mense met wie jy werk, en die hulpvaardige kuratorspan te ontmoet!
Kaartjies sluit in die Vrydagaand ontvangs, hoof gesprekke en alle konferensiesessies. Hulle sluit ook Lunch- en koffie op Saterdag en Sondag, sowel as toegang tot die MyHeritage LIVE-fees op Saterdag.
Die konferensie vind plaas op ! 1s2018-09-30! 8m2! 3d59.9185713! 4d10.7339016 Radisson Blu Scandinavia Hotel die hart van Oslo, op loopafstand van die kasteel en die nasionale galery, sodat jy nie ver hoef te gaan om die ryk kulturele toerisme-aantreklikhede en toerisme-aantreklikhede van Noorweë te ervaar.
Die aantal plekke is beperk, so bespreek jou deelname so gou as moontlik voordat die Early Bird-afslag verstryk!
Vir 'n lys van hotelle in die buurt, besonderhede oor hoe die konferensie in die Radisson Blu Scandinavia Hotel Oslo Airport en ander inligting te kry, kyk dan vrae op MyHeritage Live- website.
Ons hoop om jou daar te sien!
Meitsje Geni op MyHeritage LIVE
Wy binne bliid om te fertellen jimme dat Geni sille meidwaan oan de earste konferinsje MyHeritage brûker en jo binne útnoege!
MyHeritage LIVE fynt plak yn Oslo, wykein 2-4. Novimber 2018, en wy soene priis stelle dat as jo wolle om mei te dwaan.
It is iepen foar elkenien dy't wol mear witte oer Geni en MyHeritage, fan oeral yn de wrâld - wurde beteljende brûkers, DNA klanten mei in frije basis account, en ek dyjingen dy't net makke gebrûk fan Geni en MyHeritage en mear wolle wite.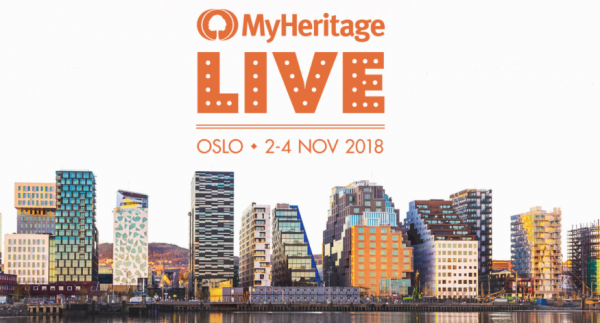 De konferinsje sil begjinne mei in wolkom út MyHeritage oprjochter en direkteur Gileäd FCSHARK, lêzings en demonstraasjes fan de algemien direkteur fan Geni, Mike Stängel, lêzings en oare betûfte meiwurkers MyHeritage en (ynternasjonale https://live2018.myheritage.com/#speakers gastsprekkers].
De lêzings binne yn it Ingelsk, mar mei in simultane oersetting wurdt oanbean ûnder master klassen mei Noarsk en oare talen as it nedich is.
Trije wichtichste ûnderwerpen sille wêze: genealogy, DNA en praktyske sesjes. Leare fan ferneamde saakkundigen yn genealogy en DNA of krije praktyske ûnderfining yn ien fan de protte wurkgroepen. Hokker nivo, elkenien is wolkom om mei te dwaan.
Show MyHeritage LIVE konferinsje programma
Der sil in protte kânsen om fragen te stellen en moetsje oare Geni- en MyHeritage brûkers, en Geni konservators. It sil wêze op in perfekte kâns om persoanlik moetsje it folk dat wurket mei dy en helpful konservators ploech!
Kaarten binne ûnder oare de resepsje freedtejûn, haad ynterviews en alle konferinsje sesjes. Se ek kofje brekt en lunch op sneon en snein, as ek tagong ta de MyHeritage LIVE partij op sneon.
De konferinsje fynt plak op ! 1s2018-09-30! 8m2! 3d59.9185713! 4d10.7339016 Radisson Blu Skandinaavje Hotel it hert fan Oslo, op rinôfstân fan it kastiel en de nasjonale galery, dus jo hoege net te gean fier te belibjen fan it rike kulturele attraksjes en Bezienswaardigheden fan Noarwegen.
Plakken binne beheind, dus boek sa gau as mooglik jo dielname foardat de Early Bird korting einiget!
Foar in oersjoch fan de hotels yn de omkriten, details oer hoe't it kongres oan 'e Radisson Blu Scandinavia Hotel Oslo Airport en oare ynformaasje, kontrolearje dan FAQ on MyHeritage LIVE website.
Wy hoopje dat jo dêr sjen!
Treffen Sie Geni auf MyHeritage LIVE
Wir freuen uns, Ihnen zu sagen, dass Geni in der ersten Konferenz MyHeritage Nutzer teilnehmen und Sie sind eingeladen!
MyHeritage LIVE findet in Oslo, Wochenende 2-4. November 2018, und wir würden uns freuen, wenn Sie teilnehmen möchten.
Es ist offen für jeden, der mehr über Geni und MyHeritage wissen, von überall auf der Welt - sind zahlende Nutzer, DNA-Kunden mit einem kostenlosen Basis-Account, sowie diejenigen, die nicht die Verwendung von Geni und MyHeritage und mehr gemacht haben will es wissen.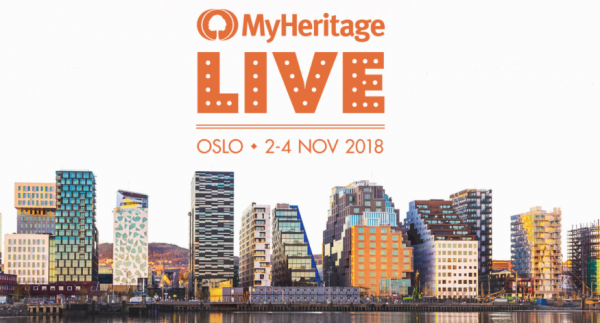 Die Konferenz wird mit einer Begrüßung durch MyHeritage Gründer und CEO Gilad Japhet, Vorträge und Vorführungen von General Manager von Geni, Mike Stangel, Vorträge und andere erfahrene Mitarbeiter MyHeritage und (international https://live2018.myheritage.com/#speakers starten Gastredner].
Die Vorträge sind in englischer Sprache, aber mit einer Simultanübersetzung während Meisterklassen mit Norwegen und anderen Sprachen bei Bedarf angeboten werden.
Es wird drei Hauptthemen geben: Genealogie, DNA und praktische Arbeitssitzungen. Lernen Sie von bekannten Genealogie- und DNA-Experten oder sammeln Sie praktische Erfahrungen in einer der vielen verfügbaren Arbeitsgruppen. Egal welches Level, jeder ist willkommen teilzunehmen.
anzeigen MyHeritage LIVE-Konferenzprogramm
Es wird viele Gelegenheiten geben, Fragen zu stellen und treffen Sie andere Geni- und MyHeritage Nutzer und Geni Kuratoren. Es wird eine perfekte Gelegenheit sein, die Leute, mit denen Sie arbeiten, und das hilfsbereite Kuratorenteam persönlich zu treffen!
Die Tickets beinhalten den Freitagabendempfang, Hauptvorträge und alle Konferenzsitzungen. Dazu gehört auch Kaffeepause und Mittagessen am Samstag und Sonntag, sowie Zugang zur MyHeritage LIVE-Party am Samstag.
Die Konferenz findet am ! 1s2018-09-30! 8m2! 3d59.9185713! 4d10.7339016 Radisson Blu Scandinavia Hotel im Herzen von Oslo, nur wenige Gehminuten von der Burg und der Nationalgalerie, und so muss man nicht weit gehen die reichen kulturellen Attraktionen und Sehenswürdigkeiten Norwegens zu erleben.
Die Anzahl der Plätze ist begrenzt, also buchen Sie Ihre Teilnahme so bald wie möglich, bevor der Frühbucherrabatt abläuft!
Um eine Liste der Hotels in der Umgebung zu bekommen, Details darüber, wie die Konferenz im Radisson Blu Scandinavia Hotel Oslo Airport und anderen Informationen, überprüfen Sie bitte FAQ auf MyHeritage, LIVE Webseite.
Wir hoffen, Sie dort zu sehen!
Tapaa Geni MyHeritage LIVEssa
Olemme iloisia että voimme kertoa että Geni osallistuu kaikkien aikojen ensimmäiseen MyHeritage-käyttäjäkonferenssiin ja kutsumme sinut mukaan!
MyHeritage LIVE on viikonloppuna 2.-4. marraskuuta Oslossa, Norjassa. Konferenssiin voivat osallistua kaikki ympäri maailman, jotka haluavat tietää enemmän Genistä ja MyHeritagesta.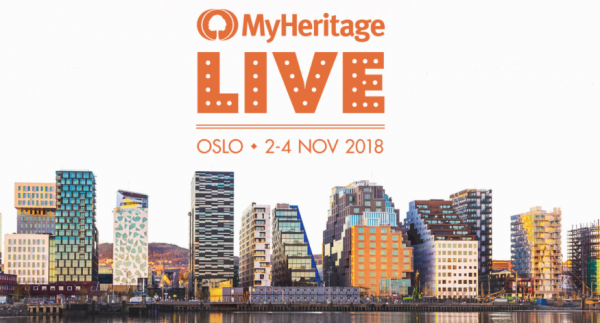 Konferenssissa kuullaan MyHeritagen perustajan ja toimitusjohtajan Gilad Japhet tervetuliaisesitys, Genin johtaja Mike Stangelin luento ja työpaja, sekä kansainvälisten puhujavieraiden esityksiä. Myös muut MyHeritagen kokeneet henkilökunnan jäsenet pitävät puheita.
Esitykset ovat englanniksi, mutta tulkataan myös norjaksi ja toisille kielille tarpeen mukaan.
Konferenssissa on kolme pääteemaa: sukututkimus, DNA ja käytännön työpajat. Opi tunnetuilta asiantuntijoilta sukututkimuksesta ja DNAsta tai saa käytännön kokemusta työpajoissa. Kaikki osaamistasosta riippumatta ovat tervetulleita osallistumaan.
Katso MyHeritage LIVE-konferenssin ohjelma
Tapahtumassa on hyvä tilaisuus esittää kysymyksiä ja tavata toisia Genin tai MyHeritagen käyttäjiä, ja Geni-kuraattoreita. Tämä on täydellinen tilaisuus nähdä yhteistyökumppaneita ja Genin kuraattoritiimin jäseniä henkilökohtaisesti!
Liput sisältävät sisäänpääsyyn perjantai-illan vastaanottoon, esityksiin ja kaikkiin konferenssin sessioihin. Liput sisältävät myös lounaat ja kahvitauot lauantaina ja sunnuntaina, ja sisäänpääsyyn MyHeritage LIVE -juhlaan lauantai-iltana.
Konferenssi pidetään Radisson Blu Scandinavia -hotellissa, ja sijaitsee aivan Oslon keskustassa. Hotelli on kävelymatkan päässä Kuninkaallisesta palatsista ja Kansallisgalleriasta, joten ei tarvitse mennä kauas nähdäkseen hieman Norjan rikasta kulttuuriperintöä ja nähtävyyksiä.
Tilaa on rajoitetusti, varaa lippusi ennenkuin Early Bird -tarjous loppuu!
Tietoa lähistön hotelleista, ja siitä miten matkustaa tapahtumapaikalle Oslon lentokentältä, löytyy MyHeritage LIVEn webbisivun
kysymys-vastaus-osiosta.
Toivomme näkevämme sinut siellä!