5 Reasons Why You Should Use Tax Records for Genealogy Research
No one looks forward to doing their taxes year after year. However, since everyone is expected to pay their taxes each year, tax records make an excellent resource for genealogists.
Ohio 1826 tax records / MyHeritage SuperSearch
Here are 5 reasons why tax records are great for genealogy research:
1. They are consistent.
As Benjamin Franklin once said, "In this world nothing can be said to be certain, expect death and taxes." Everyone is expected to diligently file their taxes every year. This means that your ancestors were also expected to pay their taxes each year. This is great if you're trying to locate an ancestor in a specific point in time, especially if the person frequently moved. Tax records are helpful if your ancestor is missing from census records or if you're trying to fill in the gaps between census records.
2. You can find names, locations or occupations.
The information collected in tax records will vary across different states. You may find the taxpayer's name, location of residence, and perhaps even their birthdate or occupation. Any nugget of information can help provide clues for further research elsewhere.
3. You get a glimpse into how your ancestors lived.
Tax records will sometimes include additional information about your ancestors' property, the acres of land they owned, their annually salary, description of personal property owned, such as cattle or horses, and in some cases, the number of slaves owned. Reading over this type of information can give you a sense of what type of lifestyle your ancestors may have lived, if they were well off financially or experienced times of trouble.
4. They can reveal relationships.
Did your ancestor marry? Was there a son who had become taxable once he became of age? Some tax records will reveal these types of information. If a relative had passed, you may even see the heirs in the records. You never know if you'll find a relationship that you may not have known about before. Sometimes, if the taxpayer was single, that may be noted as well.
5. Delinquents can be found too!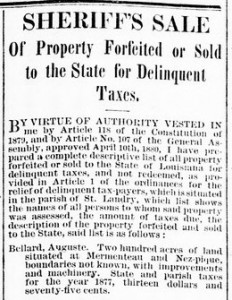 St. Landry Democrat, August 6, 1881 / MyHeritage SuperSearch
Was your ancestor not so great about paying their taxes? You may find their names published in old newspapers on a list of delinquent tax payers. These lists often include a name, description of their property and the amount of taxes due. There are many reasons why someone may be listed as delinquent, including death, poor health or the person moved out of the area. If you find your ancestor on this list, you may want to investigate why.
Have you used tax records in your genealogy research? What information did you find?
Share: