Discover How You're Related with the Geni Pathfinder
Have you ever met someone at a conference and wanted to quickly see if you're related? Now you can use the Geni Pathfinder, our new handy tool on your mobile device to easily discover how you're related to the people you meet at genealogy conferences, family reunions, or anywhere else!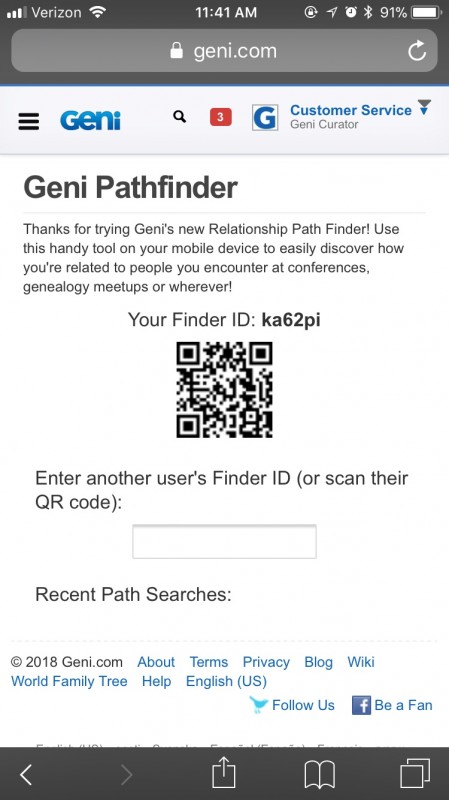 Begin by navigating to this url on your mobile device: https://www.geni.com/pathfinder (you will be prompted to login, if you have not already). A QR code and Finder ID will be automatically created for you. Simply have the other person scan your QR code with their mobile device either with their camera or a QR scanner app. Or you can enter the other person's Finder ID to quickly discover how you're related in Geni's World Family Tree. You'll receive a notification as soon as the path is found. Just click on the 'view path' link to see the entire relationship path on Geni.
A list of your most recent relationship path searches will also appear on the page, so you can keep track of who you have met. When you click on the person's name, you will be taken to their Geni profile page where you can send a collaboration request or a Geni inbox message to keep in touch. Note your profile privacy settings will apply.
With nearly 120 million people connected to Geni's World Family Tree, you'll be amazed at how many new relatives you may find. All it takes is a quick scan on your mobile device to find how you're related to other Geni users you may have the opportunity to meet.
Will you be at RootsTech 2018 this week (February 28 – March 3)? The genealogy conference is the perfect opportunity to try it out. Over 25,000 people are expected to attend this year. Whether you meet someone in a class or just happen to share a lunch table, the Geni Pathfinder will let you quickly discover how you're related to each other without needing to fumble with a search for the other person's Geni profile. Simply take out your mobile device and scan to find your connection in Geni's World Family Tree. And be sure to stop by the Geni booth #309 to have more fun with it too!
Share: