IAJGS 2017 Recap
We're back from Orlando, Florida, where the Geni team attended the 37th IAJGS International Conference on Jewish Genealogy. It was a great opportunity to meet new people and chat with many excited Geni users.
The Geni booth before the doors opened
The Geni booth was a popular stop during the conference. To our surprise, we ran out of Geni water bottles faster than any other conference!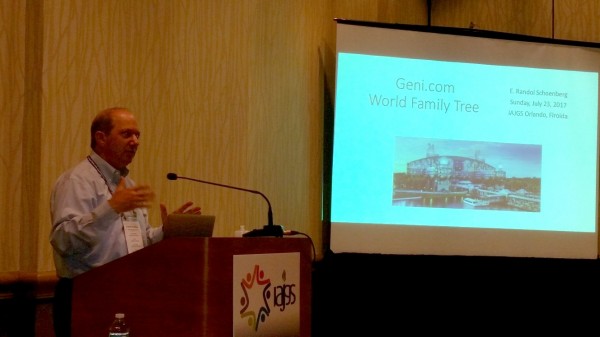 Randy Schoenberg giving his Geni.com World Family Tree lecture
On the first day, Geni curator Randy Schoenberg gave Geni's EXPO! session to a room full of attendees. He talk focused on the benefits of collaborating on Geni's World Family Tree. The next day the annual Geni.com Birds of a Feather meeting took place, which was the perfect opportunity for Geni users to connect with each other in person.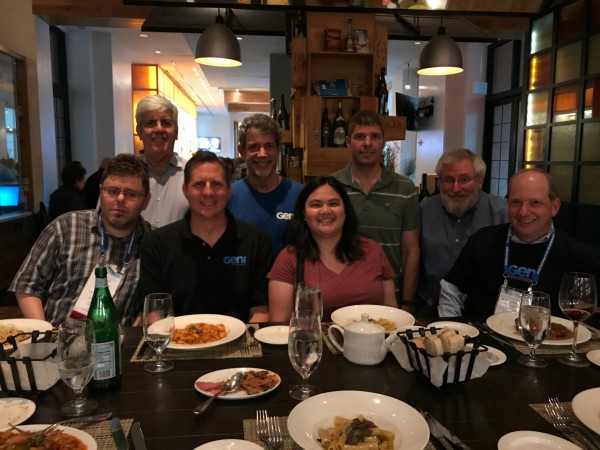 Dinner with the Geni curators and the Geni team
We also had a lovely dinner with several Geni curators who were in attendance. We love it when we have the opportunity to meet our team of hard-working volunteers in person. The curators were happy to stop by during the conference to chat with attendees about Geni or to help them with their family trees on Geni.
The busy Geni tables
It was also wonderful to hear people share stories about their family history and the discoveries they have made. Several Geni newbies were even able to quickly find their connection to Geni's World Family Tree right at the booth. After adding just 4 nodes to the tree, one man found his great grandfather's profile on Geni and was immediately able to connect his branch to the World Family Tree.
We also heard from another attendee who quickly dropped by to let us know that thanks to Geni, he just had lunch with his sixth cousin!
A new Geni user learning more about projects on Geni
Another person proclaimed how addictive Geni can be after he spent a good while looking into all the different Jewish genealogy projects on Geni. The wheels in his mind were turning as he plotted new projects to create once he got home.
Working hard at the Geni booth
We also helped a women connect her branch to her husband's second great grandfather. To her amazement, the profile also contained an image that not only showed the profile's date of death, but also the names of the profile's siblings. This was an image she had never seen before and immediately went to the hotel's business center to print it out, so that she could have the conference's volunteer translators help her translate the image.
We had a fun time at IAJGS 2017! Next year's conference will be held August 6-10, 2018 in Warsaw Poland. Will you be there?
Share: