It's A Boy! Royal Baby No.3 is Born
Congratulations to the Duke and Duchess of Cambridge! The royal couple welcomed their third child, a healthy baby boy, on April 23, 2018 at 11:01 local time at St. Mary's Hospital in Paddington, West London. The prince weighed 8 pounds and 7 ounces.
Welcome to the family. pic.twitter.com/nKSd5kh5bZ

— Kensington Palace (@KensingtonRoyal) April 23, 2018
While the public awaits for the official announcement of the prince's name, here are some interesting facts about the newest addition to the royal family:
1. He was born at the same hospital as his father, brother, and sister.
The Duchess gave birth to her third child at the Lindo wing of St. Mary's Hospital in London. She had previously given birth to Prince George and Princess Charlotte in the same private delivery suite. Both Prince William and Prince Harry were also born at the hospital.
Like the births of his first two children, Prince William was also present in the delivery room for the birth of his second son. His siblings were one of the first visitors to greet the newborn at the hospital.
2. The Prince is now fifth in line to the throne.
The birth of the new Prince now bumps Prince Harry down to sixth in the line of succession. Following recent changes to succession law, Princess Charlotte will get to remain fourth in the line of succession and will not be displaced by her younger brother. Previously, younger males would have taken precedence over older female siblings in the line of succession.
Now, Princess Charlotte makes history by being the first princess to not be overtaken by a younger male sibling in the line of succession.
3. He will receive the title of Royal Highness.
On December 2012, Queen Elizabeth II issued a letters patent which gave the title and style to all children of the Prince of Wales' eldest son.
The new prince is Queen Elizabeth II's sixth great grandchild.
4. He was born on St. George's Day.
The prince was born on St. George's Day, which is the feast day of St. George, the patron saint of England. The newborn also shares a birthday with the Bard of Avon, William Shakespeare.
5. His name will likely be announced in a couple of days.
Similar to his older siblings, the new prince's name was not immediately released. The Duke and Duchess will likely keep with tradition and choose a name that honors an important figure in the royal family tree. As the world awaits the big reveal, some bookies are taking bets on the name. A few favorite possibilities are Arthur, Albert, Philip, and James.
Update: Four days after his birth, Kensington Palace has finally revealed the new prince's name: Louis Arthur  Charles. He will be known as His Royal Highness Prince Louis of Cambridge.
Check out the royal family tree on Geni!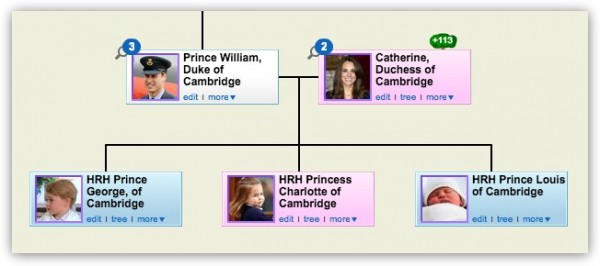 Share: