Remembering D-Day
Today marks the anniversary of the Allied invasion of Normandy. Code named Operation Overlord, over 160,000 Allied troops stormed the beaches of Normandy across a 50-mile span of its coast. Never before had an operation of this magnitude had been attempted.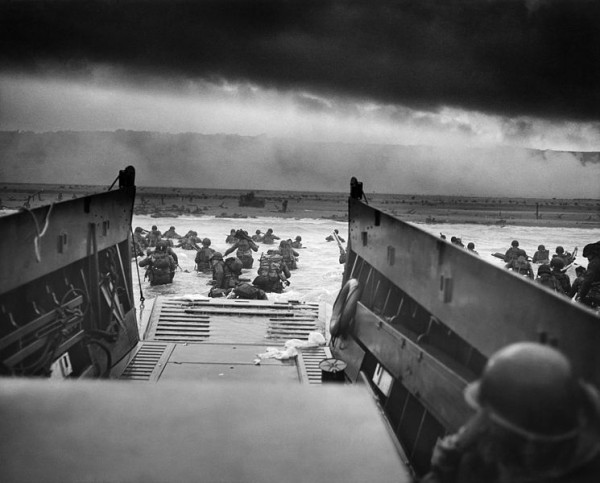 U.S. Army troops wade ashore on Omaha Beach on the morning of June 6, 1944 / NARA
On the day before, (June 5, 1944), General Dwight D. Eisenhower, then the Supreme Commander of the Allied Forces, gave the go-ahead for the operation. In his letter to the troops, Eisenhower told them:
"You are about to embark upon the Great Crusade, toward which we have striven these many months. The eyes of the world are upon you. The hopes and prayers of liberty-loving people everywhere march with you. In company with our brave Allies and brothers-in-arms on other Fronts, you will bring about the destruction of the German war machine, the elimination of Nazi tyranny over the oppressed peoples of Europe, and security for ourselves in a free world."
By the end of August 1944, the Allies were able to reach the Seine River and liberate Paris. The Germans were removed from northwestern France, thus signalling the end of the Battle of Normandy. The Allies' victory at Normandy signified the beginning of the end of World War II. On May 8, 1945, the Allies formally accepted the unconditional surrender of Nazi Germany.
In remembrance of the day, here are the stories of just a few notable figures who were there on D-Day.
Before he gained fame as Obi-Wan Kenobi in Star Wars, Alec Guinness served in the Royal Navy Volunteer Reserve during World War II. On that fateful day, Guinness operated a British Royal Navy landing craft, transporting British troops onto the beaches of Normandy.
The eldest son of President Theodore Roosevelt, Theodore Roosevelt, Jr. helped lead the Normandy invasion with the aid of a crane and a pistol in hand. At the age of 56, he was the oldest man in the invasion. He would be the only general on D-Day to land by sea with the first wave of troops. Sadly, about a month after landing on the beach, he died suddenly of a heart attack.
At the beginning of World War II, James Doohan joined the Royal Canadian Artillery. His first combat was the invasion of Normandy at Juno Beach on D-Day. Shooting two snipers, Doohan led his men to higher ground through a field of anti-tank mines, where they took defensive positions for the night. Crossing between command posts, Doohan was hit by six rounds fired by a nervous Canadian sentry. Luckily, a bullet to his chest was stopped by a silver cigarette case. Another went through his middle finger, which had to be amputated.
Share: