Uncover the Maiden Names of Your Female Ancestors
Are you having trouble searching for your female ancestors? Documentation for women is often difficult to come by in the historical record. Often times, name changes and omissions in favor of male relatives make it difficult to track down your female ancestors.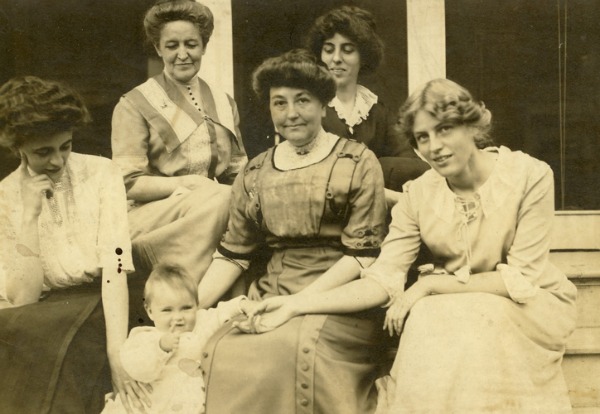 Image: Woodrow Wilson Presidential Library Archives
The month of March is designated as Women's History Month. In honor of the month long celebration, here are some ways you can uncover the maiden names of your female ancestors.
Marriage Records
One of the first places to check are the marriage records for your ancestors. Often the marriage record will contain your female ancestor's maiden name or even the names of her parents. Check the marriage records of the children as well, which may offer their mother's maiden name in the document.
Newspapers
Newspapers are a great resource for genealogy. Check for wedding announcements or anniversary announcements not only for the ancestor you are searching for but also siblings and other close relatives. You may even find the maiden name tucked away in a guest list for the big day.
Cemeteries
Tombstones may offer new information not found in other records. If you are able to visit your ancestor's tombstone, take some time to explore nearby graves. It's common to find families buried near each other. Pay attention to the names on the other graves to see if you can spot any clues to your female ancestors.
Diaries & Journals
Did your ancestors keep a diary or a journal? Be sure to scour the pages for clues. Not only do these keepsakes offer a personal recounting of your ancestors' lives, but they also may contain hints or clues that will lead you to finding more about your relatives.
Family Names
Explore the names in your family tree to see if they provide clues to possible maiden names. Pay attention to naming patterns, middle names and unusual names for girls and boys. It may just be the maiden name of a mother or grandmother.
Photographs
Do you have old photographs? Pay attention to any writing you may find on pictures. If any are framed, check the backs of the photos to see if the names of those pictured can be found there. An old family photo may hold the clue you've been looking for!
Obituaries, Wills & Probate Records

If a birth record or death record fails to offer you clues to a maiden name, expand your search to include obituaries, wills, and probate records. These records will usually list the names and relationship of heirs and sometimes the surnames of children and spouses are included.
What are your tricks to find missing maiden names? Share them with us in the comments below!
Share: